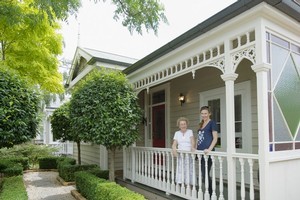 Auckland's new local government format is facing its first major test.
On one side are council heritage advisors and residents of a street "protected" for its historic look; on the other, a Council-Controlled Organisation that says it doesn't have to play by the rules.
Burnley Tce - which runs between Dominion Rd and Sandringham Rd - is an immaculately kept suburban street. Two straight lines of demurely painted character houses face each other, relics of early Auckland architecture.
It is one of six heritage streets listed by the old Auckland City Council in its District Plan. Materials and appearance of the properties are monitored to keep the neighbourhood in its original character. If property owners want to paint their houses in non-heritage colours, they must apply for council permission.
However, it appears the Auckland Transport CCO's roadworks don't comply with the same standards - and the CCO is unrepentant about it.
It has sealed one half of the street in thick black asphalt. The other half is to be finished in chipseal.
On kerbs and driveway entrances, patches of white concrete stand out against the black.
Supported by council heritage advisor George Farrant, residents are upset the street is now patchy and mismatched.
Auckland Transport road corridor maintenance manager Murray Noone says it follows engineering standards when carrying out roadworks. He acknowledges residents are angry but says the roadworks are within regulations.
"There's a decision that needs to be made because two council entities are at odds with each other," says resident Andrew Park. "You have got this new entity [Auckland Transport] that basically has no obligation to deliver against the District Plan but is complying with the Government funding requirements.
"There's a disconnect there with actually delivering what the people of Auckland want."
Mayor Len Brown has asked council officers to look into the residents' concerns.