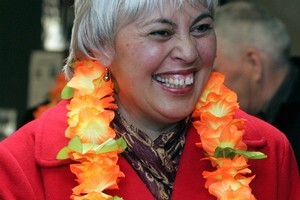 Labour MP and former Pacific Island Affairs Minister Luamanuvao Winnie Laban is leaving Parliament to work as assistant vice chancellor Pasifika at Victoria University.
Labour Leader Phil Goff said he was sorry to see Mrs Laban leave his caucus but that her new position would enable her to continue to work raise Pasifika achievements.
Mrs Laban's resignation means a by-election will be held in the Mana electorate she has won the last three elections.
Ms Laban said she had decided it was time to step away from Parliament.
"This career move is an exciting one and I am very privileged and honoured to be able to be the MP for Mana and I am very proud of my Party," she said.
"This enables me to continue my passion for Pacific people, young people and more importantly having a role in education outcomes that will lead to stronger economic development for the Pacific community."
She said she was confident her electorate would remain a Labour seat.
Mr Goff said Labour would be "throwing the weight of its organisation behind keeping Mana Labour".
"Labour will be looking to find a strong candidate and will campaign on both local issues and issues that matter to all Kiwis," he said.
- NZHERALD STAFF