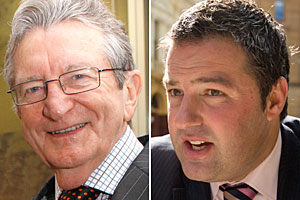 Top civil servant Dame Margaret Bazley has given her version of a now notorious spat between TV3's political editor Duncan Garner and former Labour minister Chris Carter.
Political adviser Brian Edwards began the dispute this week when he accused Garner in a blog of having a personal campaign against Mr Carter.
The row involved a brief exchange between Garner and Mr Carter at an airport Koru Club and later on the plane, witnessed by Labour chief whip Darren Hughes and Dame Margaret.
Dame Margaret said that she saw only a "very small piece of what was obviously a larger incident". She said she was sitting on the plane with Mr Carter in front of her when Duncan Garner came up the aisle.
"I suddenly was alerted when I heard him say: 'You are pathetic.' And so, when I got off the plane, I commented to Chris Carter about my surprise that such a statement could be made to anyone sitting on a plane."
Dame Margaret's version of events differs from Edwards'. He claimed she overheard Garner say; "I am going to f****** get you, Carter.
If it takes me to Christmas I am going to f****** destroy you".
Garner said last night that if Dame Margaret heard him call Mr Carter pathetic, he probably did.
Garner said he had spoken to Mr Hughes about the the incident. "He thought I was very calm and moderate about it all on the plane. What Darren says is that I said: 'Hey, we need to be more mature about this, Chris'. Now I can't remember that but that's what Darren says ... he was sitting right opposite." Mr Carter and Mr Hughes have declined to comment.