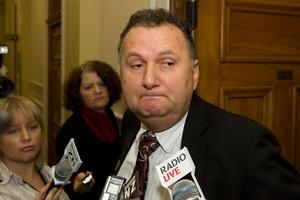 One of Labour's newest MPs, Grant Robertson, is expected to get a big promotion today after three colleagues were demoted for misusing Crown credit cards while they were ministers.
For their poor judgment in using their ministerial cards, list MP Shane Jones lost his environment and economic development spokesmanships, Te Atatu MP Chris Carter lost foreign affairs responsibility and list MP Mita Ririnui lost forestry.
Mr Robertson, now associate foreign affairs spokesman, and Maryan Street, the trade spokeswoman, both have a strong claim on the plum foreign affairs post.
If Mr Goff gives the job to the more senior MP, Maryan Street, she is likely to shed her tertiary education portfolio.
Mr Robertson, a former student politician, would be a sitter for that and it would pit him against one of National's best-performing ministers in Steven Joyce.
It may not have the same status as the foreign affairs portfolio, which is largely conducted on a bipartisan basis, but it is likely to provide a greater platform for Mr Robertson to display his political maturity.
Mr Robertson is MP for Wellington Central and was elected in 2008. He formerly worked for Helen Clark when she was Prime Minister.
David Parker is expected to pick up Mr Jones' economic development responsibility, and climate change spokesman Charles Chauvel is expected to pick up environment.
Associate forestry spokesman Stuart Nash will probably pick up the full portfolio from Mr Ririnui.
Movements to the front bench today will be to replace Mr Jones and Mr Carter, rather than be necessarily merit appointments.
Mr Chauvel and Nanaia Mahuta will join the front bench. There will be a major reshuffle of positions and portfolios later in the year.
Mr Jones fronted media yesterday and said he would not be resigning for the moment. He would discuss the issue with the caucus and his inner circle before considering his future.
But he admitted there was not much point in being an MP without an electorate or a portfolio.
"I don't expect to earn a public salary and wander around under the ti-trees and the kauri gums up north doing jack, but I just need a bit of time to sort things out.
"My waka's certainly going to be in the backwaters, but, hey, I put myself there. Whether I've got the power, the strength, to paddle my waka anywhere else, time will tell."
Mr Jones did not want to make any comments to upset the Labour boat, suggesting he was not happy with the demotion.
"I don't want to quibble. [Phil Goff] is the leader. It's the day for the leader to show mettle. He's made his decision."
Mr Carter released a statement accepting Mr Goff's decision, but did not issue an apology or any acknowledgment of wrongdoing.
He has previously complained about being targeted by the media because he is openly gay, which Mr Goff has rejected.
Mr Goff said asking the MPs to resign was a step too far, and the course he took has left the door open for them to work their way back to the top.
Records released last week showed Mr Jones had used his ministerial credit card for personal spending, including ordering in-house pornographic movies while staying in hotels. Mr Carter repaid $251 last week for inappropriate spending. Mr Ririnui had used his card to buy a bike and golf clubs.
The money was repaid.
ON THE UP
Grant Robertson
or Maryan Street - foreign affairs
David Parker
economic development
Charles Chauvel
environment
GOING DOWN
Shane Jones
environment and economy
Chris Carter
foreign affairs
Mita Ririnui
forestry