Providers will have to show their efforts have resulted in actual improvement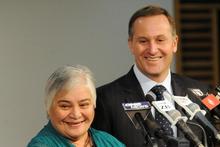 More than half a billion dollars will be redirected into the rollout of the Maori Party's flagship Whanau Ora programme over the next four years.
Prime Minister John Key yesterday announced that funding of $134.3 million over four years would be included in the Budget for an initial phase of 20 providers to deliver Whanau Ora, which will see "navigators" appointed to work on the social and health needs of whole families.
But on top of that is an extra estimated $100 million a year once existing contracts between government agencies and the chosen providers are pooled together into broad Whanau Ora contracts.
But the sum is only about one quarter of the $1 billion a year Maori Party co-leader and Whanau Ora minister Tariana Turia had initially hoped for, drawing criticism from Labour which claimed it simply replicated other programmes.
Mrs Turia said the funding was "the first wave" only and she expected it to increase over time. Prime Minister John Key also indicated it would go further but it was realistic to start at the level they had decided on.
"We need to prove to the New Zealand taxpayer that this is value for money. We are confident we will get a better result for the taxpayer, and over time I expect that number to rise."
The $134 million will pay for 20 providers to be chosen and set themselves up for Whanau Ora, including training staff and updating their systems, as well as $20 million for research and monitoring.
The first providers will be selected after seeking expressions of interest next month and the scheme is expected to begin in October.
The policy was a flagship Maori Party policy in the election period and Mrs Turia said it would allow families to make their own decisions rather than relying on the state to mother them. Each family would be given a "champion" or "navigator" to help identify problems and how the family wished to resolve them.
As well as providing various health and social services, the navigators could also co-ordinate the family's dealings with government departments such as Work and Income, but would not administer welfare benefits.
Despite criticism that Whanau Ora was nebulous and difficult to comprehend in practice, Mr Key said it was deliberately flexible and had the potential for families and the taxpayer to get better results from public money.
Providers would have to show their efforts had resulted in an actual improvement, such as by reducing truancy or improving health - a level of accountability he said was higher than at present.
Mrs Turia said details such as how different families would be funded in practice were yet to be worked through by the governance group in charge of managing Whanau Ora.
The scheme initially involves only the Ministries of Health, Social Development and Te Puni Kokiri, although it was possible others such as housing and police would be brought in over time.
HOW IT WORKS
* 20 social/health providers will be chosen by the Whanau Ora governance group after seeking expressions of interest in June.
* Provider must meet specific criteria such as a track record in delivering health or social services and managing contracts well.
* First 'Whanau Ora' families begin in October. Each is given a 'navigator' or 'champion'.
* The navigator works with the family to identify their problems - such as truancy, childcare and health issues - and how to resolve them. Can also act as a liaison between the whanau and government agencies.
* Providers offer some services - such as help to quit smoking - but will not administer Work and Income benefits.
COSTS
* $134.3 million over four years for setting up Whanau Ora, training providers and staff and system updates as well as research and monitoring.
* Estimated $100 million a year once existing health and social contracts are pooled into broader Whanau Ora contracts.
* Providers have to show actual results for the families in their care - such as reduced truancy levels and better health - rather than simply showing they had delivered the number of services they were required to.
By Claire Trevett @CTrevettNZH

Email

Claire