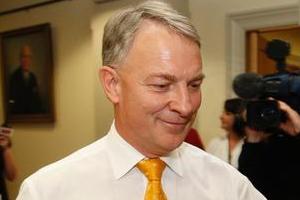 Phil Goff emerged from Labour's caucus meeting yesterday claiming his MPs were unanimous in their backing of both the tone and content of his now-infamous "nationhood" speech. There is no reason to doubt him. Short of doing what is currently the unthinkable - toppling him - the caucus had little option but to weigh in behind their leader - in public at least.
There could be no halfway house. The priority was to present a united front to the world outside. That was evident in Goff and party president Andrew Little, who has acknowledged party members' worries with aspects of the speech, entering the meeting shoulder-to-shoulder.
Given Labour is rating around 30 per cent support in the polls - 20 percentage points behind National - the party could not afford go into the summer recess amidst internal dissent and with questions over the leader's actions unresolved.
Goff insists he was not playing the race card when he gave the speech. If he was not overtly playing the race card, however, he knew perfectly well that he was producing enough evidence - be it the use of loaded language like "porkbone politics" or the choice of a provincial city audience for the speech - to lay himself open to that charge.
Most notable was his focus on the foreshore and seabed issue following his criticism of Hone Harawira and the Maori Party's "sell out" on the emissions trading scheme. Goff looked like he was simply hunting for another Maori-related issue to exploit.
In demanding the Government come clean in its intentions in this area, however, Goff is putting the cart before the horse. The Government is undertaking what Justice Minister Simon Power yesterday described as a "thorough and consultative process" and is not expected to announce before next year what it is going to put in the place of Labour's law once that is repealed.
So what has been Goff's motive other than to make political capital by reopening old wounds and then blaming National for doing so? The other question is how much capital.
It is possible the caucus has given Goff limited licence to continue his campaign on the foreshore and seabed for face-saving reasons in the expectation he will quietly drop it. At the end of the day, the race-card option is a dead-end street for a Labour leader because it flies in the face of the party's ethic and tradition.
The PM put it this way yesterday: the tragedy of Phil Goff was that he had made a speech he did not believe in and as a result the Labour Party no longer believed in him. Not quite. The party has to believe in Goff because for the time being it has no one else it can believe in.