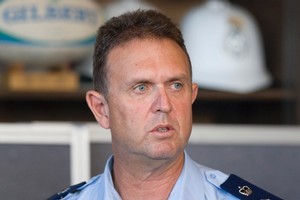 The man who led the police response to the Pike River mine disaster has been promoted.
Superintendent Gary Knowles was head of the West Coast-Tasman police district when the mine claimed 29 lives in a series of explosions, the first last November 19.
His handling of the rescue effort was both praised and condemned, and he has now been appointed Canterbury police district commander.
During the Pike River crisis, journalist Ean Higgins from The Australian branded Mr Knowles a "country cop" and asked why he was in charge of the rescue effort.
Senior cabinet ministers and then Pike River chief executive Peter Whittall joined forces to defend him, with Energy Minister Gerry Brownlee blasting Higgins as "boorish" and Police Minister Judith Collins saying the question was "disgraceful".
Mr Knowles responded to Higgins' question by calling him "sir" and pointing out that he was responsible for policing three quarters of the South Island.
Mr Knowles' new position covers a smaller geographical area but has a far greater population basis and is in the midst of rebuilding following Christchurch's deadly earthquakes.
He could not be reached for comment - he was believed to be enjoying a rare break - but the man who represents the families of those who died in Pike River offered his congratulations.
Bernie Monk, father of 23-year-old victim Michael Monk, said Mr Knowles showed the type of man he was when he publicly apologised to the families over the handling of some aspects of the rescue and recovery operation.
"He's probably the only one of the police who has come forward and said that to us," Mr Monk told APNZ.
Mr Knowles' apology came at the Royal Commission of Inquiry, during which he broke down while telling the victims' families he did his best to save their loved ones.
The biggest issue was around the way the families were told their husbands, sons, fathers and brothers were dead; Mr Whittall started outlining events chronologically with news from earlier that day when authorities were considering launching a rescue operation.
Families clapped before Mr Knowles interjected and told them the men were dead, prompting an outpouring of grief.
"It was not the way it should have been given, and I apologise to each of you," Mr Knowles said at the inquiry.
He also admitted to not knowing there was a fire in the mine - information Mr Monk said could have led to things being done differently.
"It's not very common that police say it (sorry) publicly, so I do admire him for that," Mr Monk said.
Everyone, including the police, could learn a lot from the handling of the disaster but all had done their best.
"He did his best and the families appreciated what (he) did," he said.
"I congratulate him on his appointment."
- APNZ
- APNZ