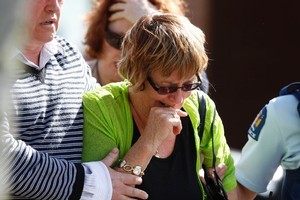 The top policeman who fronted the Pike River rescue made a tearful apology to families yesterday and said he was gutted by some of their criticisms of him.
Superintendent Gary Knowles, speaking at the royal commission of inquiry in Greymouth, said telling the families all hope was lost after the mine's second huge explosion was the hardest day of his career.
The incident controller sat in the carpark outside the meeting preparing, with Pike River Coal chief executive Peter Whittall, watching the families arrive.
Mr Whittall had said he wanted to break the news, but once inside the hall the mine chief had revealed plans to enter the mine and people had clapped.
Mr Knowles said he'd had to interject, saying that had not been able to happen and there had been a second explosion.
"I have never seen such an outpouring of grief in my life," he said. "It was not the way the message should have been given. I apologise to each of you for the way that message was given."
He said he did not blame Mr Whittall - the mine chief had been unable to face the task of saying the 29 trapped miners were dead.
Many family members wept in court after the apology; Mr Knowles sipped water and took time to compose himself.
Families spokesman Bernie Monk accepted the apology in an adjournment and shook Mr Knowles' hand.
The police had worked tirelessly, and were themselves fathers and brothers, Mr Monk said.
Mistakes had been made, and everyone was at the commission to learn from them, he said.
Mr Knowles also said he upset by some of the families' briefs to the commission. He could understand their criticism "but at the end of the day I did my best".
At least six hours a day was spent in media or family meetings, or preparing for them. Once committed, he felt he could not back out.
Families were kept informed via text, and given an 0800 number and a secure website from which to obtain information.
There were 48 family meetings, and each family was assigned a liaison officer.
But not all information was conveyed and Mines Rescue manager Trevor Watts refused to meet the families, something they would have greatly appreciated, Mr Knowles said.
The police chief also revealed he was at the mine site when the second explosion occurred, as plans were being made for a possible rescue attempt.
But Australian mines inspector Kenneth Singer said something was "not right, asked for more time - then the blast came".
Mr Knowles said Mr Whittall, who had 35 years of mining experience, believed on the night of the blast the men could be alive and rescued.
Mines Rescue had said early on the mine should be sealed, but Mr Knowles, his voice faltering at times, said the consensus was that this was not an option until they knew no one was alive.
"Everyone involved in the rescue operation held the general hope the men would be rescued.
"It was my honest belief from those who knew the mine best. It would have been immoral on day two to close the mine and go home."
Department of Labour staff said they had instructions the mine was not to be sealed until there was no chance of survival.
Mr Knowles also explained the chaos at the mine when he arrived after the disaster: there was no cellphone coverage, no computer access and limited phonelines. All gas monitoring had been knocked out.
The numbers of those underground varied from 25 to 31 and next of kin details were out of date. There was a media scrum, with reporters trying fly over the scene, and talk to family members, he said.
Once the incident plan was established, things felt more unified.
In 34 years of policing, he had never worked on such a complex case, but risk assessments were necessary.
With hindsight, parallel contingency planning should have been improved, more operational decisions should have been made in Greymouth and changes should have been made to family and media liaison to free the incident controller.
Earlier in the day inquiry commissioner Stewart Bell, head of Mine Safety and Health for Queensland, grilled assistant police commissioner and operation head Grant Nicholls on why he did not involve a mining expert.Greymouth Star