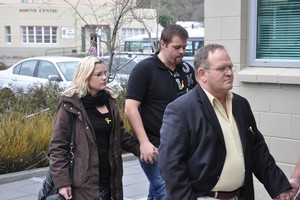 A survivor of the Pike River tragedy lay on the ground in the explosion-hit mine screaming 'please don't do this' as he passed out from carbon monoxide poisoning.
When he lived through that ordeal and managed to drag a fellow survivor to a fresh air base, he found it had no phone, self-rescuers or first aid kits.
Daniel Rockhouse, a former miner at Pike River, is giving evidence to the Royal Commission of Inquiry into the tragedy which claimed the life of his brother Ben Rockhouse and 28 other men.
He was getting gravel to fix a roadway when "the mine blew up".
"It was like a big blast of pressure and I saw what I thought was a white flash out of the corner of my eye. It was just boom and it hit me. It happened in milliseconds. It was like someone pushing on my chest."
"It was that loud I went deaf. I couldn't hear anything."
He was knocked off his feet by the force of the blast.
Within seconds of getting up again, smoke from the explosion was billowing around the corner.
Mr Rockhouse said it was accompanied by a foul smell which he thought was a mixture of carbon monoxide and diesel fumes.
"Once you've smelt that smell you'll never forget it.... it makes it very hard to breathe."
He staggered a short distance before pulling his self-rescuer out of his mouth, thinking it was not supplying him enough oxygen.
Breathing in the carbon monoxide-filled atmosphere made him fall to the ground.
"I describe the feeling like when you wake up and you've been lying on your arm and you can't feel your arm - my whole body felt like that.
"I just lay there and was crying.
"My eyes were watering because I presume it was the gas, or the smoke stinging my eyes.
"I was just freaking out. I then closed my eyes and thought that was it. I thought I was dead and was screaming 'please don't do this'. I don't know if I was talking to God or something. I was just freaking out. I was screaming 'is there anyone out there? Help. Help. Help. But no one answered me."
Mr Rockhouse recovered about 20 minutes later and staggered to a phone to call out of the mine.
However, he initially received an answer phone message when he rang the Pike River emergency number.
After saying "a few profanities" got through to mine manager Doug White, who told him to stay low and get to a fresh air base.
On his way out to the base, he found fellow survivor Russell Smith on the ground with his eyes rolling back in his head.
He dragged Mr Smith to a fresh air base, but found it was not equipped with emergency supplies.
"There was no first aid kit. The phone wasn't working and when I turned on the air valve on it, it wasn't working either."
"There were no self rescuers either, just an empty container."
Mr Rockhouse said he kicked equipment around and screamed in anger.
He eventually decided to walk out of the mine.
"I said to [Russell Smith] 'screw this. We're getting out of here'... I asked him if he could walk. He walked a couple of steps and fell back down."
Mr Rockhouse supported Mr Smith the rest of the way out of the mine.
The Royal Commission has adjourned for a 15 minute break and will resume after 4pm.