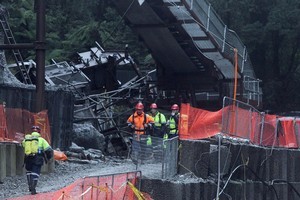 The explosion that ripped through Pike River mine last year had its origin in changes to mining regulations in the 1990s, a former chief inspector of coal mines told the Royal Commission into the tragedy today.
The commission is inquiring into the disaster at the West Coast coal mine in November last year which left 29 miners and contractors dead.
Giving evidence this morning, former chief inspector of coal mines Robin Hughes, who has over 40 years of coal mining experience, criticised mine safety changes made by the National Government in the 1990s.
"The explosion at Pike River mine..had its origins in the repealing of the Coal Mining Act and regulations in 1993," Mr Hughes said.
"The unwillingness of government officials up to and including the Prime Minister of the day to act on advice offered by a number of individuals resulted in the loss of a robust coal mines inspectorate, staffed by the most experienced and skilled personnel available.
Mr Hughes said once mines' inspectors became part of the Occupational Health and Safety (OSH) and the Department of Labour the "proactive" inspecting of coal mines greatly reduced.
"The OSH view was that workplace health and safety was primarily the responsibility of the mine's operators," he said.
Mr Hughes also questioned the qualifications of people employed as inspectors after the 1990s.
"The inspectorate changed from being a active and expert participant in coal mining safety to a reactive and substantially less well qualified organisation," he said.
"It became an ambulance at the bottom of the cliff and not a fence at the top."
Earlier Jane Newman, a geologist and director of Newman Energy Research with more than 31 years experience in the Pike River area, said Pike River Coal did not have a proper understanding of the geology of its coal mine. Her concerns led to her telling her husband, also a geologist, not to enter the mine in August 2010.
"My feeling at that stage was that things were converging on a situation I wasn't happy about," Dr Newman said.
Independent technical reviews included in a Pike River Coal Ltd prospectus were written by people unfamiliar with West Coast geology, she said.
"They were written by people familiar with the coal mining geology in Australia."
The hearing is continuing.
- NZPA