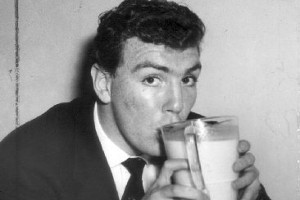 Ireland, ah Ireland.
Instigators of the biggest upset to date in the Rugby World Cup this weekend and the biggest hangovers known to mankind for some of those celebrating.
Had there ever been a rugby playing nation less suited to the rigours and demands of professional rugby? Was there ever a nation that so epitomised the fun and frivolity of the old amateur era?
It is 41 years since Irish rugby enacted one of the funniest sights ever witnessed around the international game. Tony O'Reilly, seven years after what he thought had been his final appearance for his country, received a terse message as he entertained guests in a London nightclub, 48 hours before the 1970 England vs Ireland game.
"Injury crisis. Report tomorrow, 10am, training" it said. And so he did, in his own inimitable style. At the appointed hour, a Rolls Royce cruised through the gates. When it stopped, the chauffeur got out, collected a kitbag from the boot and handed it to O'Reilly as he stepped out.
Alas, O'Reilly was no longer the sleek athlete, as his teammates well knew. As he puffed his way around the training ground, lagging at the back with McBride, Willie John produced his great line.
"Reilly, there'd be no point in yer doing all this trainin'. Get yer chauffeur to do it for yer."
Now fast forward to the present time. A highly disciplined, dedicated performance rich in strategy detonated the assumed order of events in this 2011 World Cup on Saturday night.
The levels of concentration and intensity were light years away from anything most Irish teams of previous times could muster.
The nation they said would never adapt to the requirements of professionalism could now be pushing at a door that says "World Cup final".
Wallaby coach Robbie Deans admitted: "It was a very good Irish performance. They fully deserved their win. They played more intelligently than us and put us under a lot of pressure particularly in our area of the ground."
Could Ireland now go on to reach the final and maybe even win it?
"If Ireland can maintain that level then, yes. There are a number of sides that can win this World Cup. I think you will see that week to week."
This triumph for Irish discipline and desire was also confirmation that the so-called golden era of Ireland rugby may yet have one last hurrah. Inspired by the brilliant Brian O'Driscoll, Ireland won a Grand Slam in the Six Nations of 2009 and has claimed four Triple Crowns since 2000.
No one has known that better than O'Driscoll, a pragmatist down to his cotton socks.
For him, the true arbiter was always the World Cup, and at every one in his era, they have failed miserably.
Not for nothing did the captain tell his men this week, with the Australian game always likely to hold the key to Ireland's 2011 World Cup, "It is now or never."
The Irish players' respect for their captain goes deep. Deep enough to find that extra half breath when worn out lungs are burning with exhaustion. And certainly deep enough to hurl themselves in among the boots, where the claret flows and the bruises come as if from trucks hurtling down a highway.
But what may have surprised even Brian O'Driscoll was this Irish team's ability to maintain the crushing tourniquet they set out to wrap around Australian throats, and then tighten it still further. Their scrummage was a potent weapon that was far too much for the Wallabies.
Sekope Kepu, Australia's loose head prop, just couldn't "cope" at all with Irish tight head Mike Ross and the power coming through from the Irish pack. And on the other side of the front row, Cian Healy rightly won the man of the match award for his personal demolition of Wallaby tight head Ben Alexander, who was eventually withdrawn 17 minutes from the end to save him further punishment.
In truth, the whole Irish pack was supreme. Their fitness levels were exemplary, their attitude outstanding.
In this professional era, these Irish rugby men are making a commendable fist of handling all its many requirements. And best of all, there is not a chauffeur in sight at their training ground.