National's volatile agenda loaded with threats to PM's glowing popularity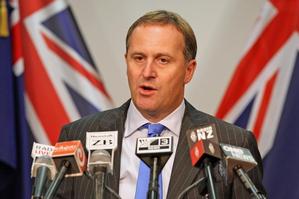 Those arguing John Key's soaring approval ratings give him licence to live a little dangerously and implement some necessary but unpopular policies are forgetting a few things.
Despite a personal high of 58 per cent as preferred prime minister in last week's Herald DigiPoll survey, right now Key's reluctance to run down the vast political capital he has accumulated is understandable.
Implementing the Maori Party's flagship Whanau Ora programme and settling the foreshore and seabed imbroglio could both end up exploding in his face any time soon.
Add to that volatile combination a less than popular rise in GST. Thursday's TV3 poll revealed a 74 per cent rejection of an increase in GST from 12.5 to 15 per cent.
This negative sentiment switched dramatically to 45 per cent against and 52 per cent in favour when the rise was compensated by tax cuts.
However, those in favour are assuming they will get a satisfactory tax cut when, in fact, they may well end up getting less than they expected.
On the same day the TV3 poll was released, Bill English was hosing down expectations that the top tax rate will drop from 38 to 30 per cent.
The finance minister indicated the top rate may fall to 33 per cent, while company tax may be cut from its current 30 per cent, especially if Australia drops its rate below that level.
This seems the smarter option. Cutting the top personal rate to 33 cents in the dollar rather than 30 cents will disappoint some higher income earners in National's camp, but it will not impact on those earning less than $70,000.
The latter comprise the great bulk of taxpayers. It was going to be extremely difficult to persuade them a bigger reduction for a relative minority earning $70,000-plus was justified, given the impact of a hike on GST at the lower income end of the scale.
Earlier in the week, Key was doing some advance damage control of his own by insisting Whanau Ora programmes be available to all regardless of race.
National has no trouble ideologically speaking with Whanau Ora, which will see some state funding being handed to health, welfare, education, housing, justice and other social service providers, Maori or otherwise, to work directly with whanau.
The family-centred programme is utterly consistent with what might be termed the Quiet Revolution in the delivery of public services.
This revolution was begun tentatively by the last Labour Government. It has been continued by this minority National one with vigour, but little fanfare.
The section devoted to "better public services" in last week's document setting out the Government's economic and social agenda ran to a scant six paragraphs. It made the usual noises about improving "frontline" services and more efficient management of Crown assets.
It was a huge understatement of what is a massive transformation in the way the public service operates.
One example of this transformation was this week's establishment of the innocuous-sounding Housing Shareholders Advisory Group. Given the Government at times seems to be drowning in advisory groups, expert panels and ministerial reviews, it was not surprising the announcement went largely unnoticed.
This advisory group, however, is tasked with nothing less than determining whether Housing New Zealand is doing its job properly. It is another component in an English-led, Treasury-powered drive for the public service to lift its game and improve the quality of services.
The Finance Minister has been putting pressure on chief executives to instigate a huge culture change in their departments.
Such are the Government accounts, he has been able to wield the big stick of "no more money for several years" to force chief executives to examine their department's baseline funding and rigorously question long-held assumptions about what functions are necessary.
Some critics smell a very big rat - that English is deliberately running down the core state sector and outsourcing services to be run by the private or voluntary sector.
Their suspicions will not be allayed by the Department of Conservation this week announcing it is setting up a new "commercial business unit" to identify the potential for more commercial activities to operate on the Conservation estate.
Like it or not, however, this is an example of the shift in thinking English is demanding.
It is a shift that Labour largely does not oppose. It is firmly of the view that the so-called "back-room" functions carried out in Wellington head offices will be even more vital as innovation occurs at the front-line.
It has yet to write policy but otherwise it is not opposed to greater decentralisation of services.
Both National and Labour are following a worldwide trend which sees political parties of varying hues examining how to deliver higher quality services at lower cost.
Driving this are changing public attitudes about the role of the state and the coming fiscal crunch from soaring health and other costs associated with the ageing of baby-boomers.
Politicians are now responding to rising public expectations that state entities justify their existence.
The result is a power shift from the state to its citizenry. Take Sweden's public health system as an example. Patients have guarantees that if they are not treated within three months by their local health authority, they can go to a private hospital and the local health authority picks up the bill.
The Government here is a long way off adopting that kind of model. But this is clearly the direction in which National wants to head.
English, however, is not rushing things. He is operating on a three-to-five-year horizon. There is an acceptance that Government departments will move at different speeds. The lack of fanfare reflects his wish to be able to point to identifiable improvements in delivery before he starts blowing any trumpets.
Whanau Ora is also very much about empowerment - Maori in its case. It is the highest-profile example of the wider shake-up of service delivery. It is also the most politically sensitive.
The Maori Party can probably live with the Prime Minister's dictate that Whanau Ora services be available to everyone in need rather than just Maori.
It won't make a material difference to the programme. The great proportion of those in need are Maori. The remainder may well find such a uniquely Maori focus is not to their taste. Key, however, may have defused some of the likely backlash from his party's Pakeha supporters towards the scheme.
But there is still no detail of how much Whanau Ora will cost, when and where it will be initially rolled out and whether Maori providers are adequately resourced and ready to offer services.
While iwi and whanau will be responsible for the provision of services, the Government cannot escape accountability for how the money is spent. The political bottom-line is that National will get no credit when Whanau Ora works; it will get a lot of grief when it doesn't. The Prime Minister has ample reason to be nervous.