There are steps you can and should take to move on if you're not happy at work despite the good money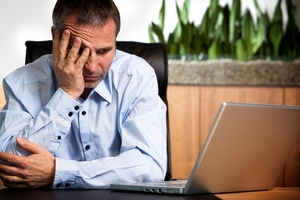 Are you doing a job you hate, but can't afford to leave? You may be stuck in the "pay trap". Jane Kennelly says that in her role as director of Frog Recruitment, she hears stories of people who feel as if they are "stuck" in a career rut, or a role they're not enjoying, but feel unable to leave because of financial pressures.
Kennelly cites a recent conversation she had with Ruth*, who is in a well-paid role in a large corporate. "I'm paid silly money, and I can't ignore it," said Ruth. "I would take on a role in a not-for-profit [organisation] in a heartbeat but can't because I am so well paid and I am the key breadwinner in my family. I've talked it over with my husband and he keeps reminding me of our mortgage repayments!"
Kennelly says that in most cases, the feeling of not liking your job tends to creep up on you like a bad cold. "It's tough to go to work every day when you feel unhappy or compromised, and when the 'money is good' the resulting feeling of inner conflict can be immense. But there are steps you can and should take to move on if you're not happy at work. Besides being happier, you'll do a better job if you're working at a job you love, or at least like.
It makes sense to strategically plan your exit from the company."
Preparation is the key to planning an exit, says Kennelly. "Most people don't want to lose their job and go for a period of time without income, and many of us can't afford to take a job that pays less than we are making now. But if you prepare yourself financially, you allow some wiggle room to get unstuck from your unhappy job situation. You need to address debt, spending and savings.
"The first order of business is to pay off debt," she says. "The next is to think carefully about what really drives you. You might find it hard to get past thinking 'what pays the most?' or 'what is most secure?', especially in today's economy. However, a liberating part of this process is the discovery of your primary interests and passions. This can open doors to careers you might not have considered. It's exciting, and you may be surprised at how you can fit your passions into a new career."
Sarah* is a student who was previously in a full-time job she hated. "The stressful environment, workload, and low morale was very unsatisfying," she says."It felt detrimental to keep working in that environment. I also felt there was no appreciation shown for the dedication I had to my role".
Sarah made the decision to leave her role to study towards a new career and is a student of the New Zealand Career College, undertaking a foundation course for a bachelor of health science in nursing at AUT, which she will start next year.
Sarah says it was hard to think about giving up her income because she had to consider how she would pay rent, bills, vehicle and transport costs, restrictions on social activity and how she would manage study while also working part time.
Fortunately, she was eligible for the student allowance and a loan for her course fees. "This was helpful in encouraging me to go ahead with the change," she says. "Also, I had some savings which helped support me while I was looking for a part-time job, but I have had to budget more carefully and decide what expenses I am allowed.
"I would definitely recommend moving into study if you feel you would be happier in another role," says Sarah.
"As an adult I recommend doing a foundation course for what is most relevant to your career change, as it will help give you the confidence to continue on to university level and will give you options and ideas about a new career."
If an employee really cannot afford to leave their current job, Kennelly has some advice on how to improve the situation at work.
"Find ways to make your job more interesting or tolerable," she says.
"Ask your boss for a flexible working arrangement. Leave the office at lunchtime, and interact with co-workers. Ask to head up a new project. Focus on the positive aspects of your job. Find ways to enjoy life outside of work and look forward to them."
Kennelly offers a final word of caution on the pay trap. "Even if you do hate your job, keep it to yourself and your family or close friends. Don't tell the world, because the wrong person is probably going to see what you posted. Search Twitter for 'I hate my job' to get an idea of what I mean!"
*not their real names