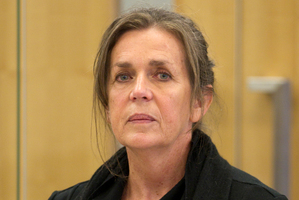 A Crown witness considered herself a "very close friend" of Jacqui Bradley but said she was left with "nothing" after investing hundreds of thousands of dollars with the financial services director.
Bradley, accused of swindling 28 clients of about $15 million, is on trial in the Auckland District Court and has pleaded not guilty to 75 Crimes Act charges, including 58 of theft by a person in a special relationship. The trial began last Tuesday and is set to finish in September.
Kathleen McDermond, who met Bradley about 20 years ago, when both their daughters started at St Cuthbert's junior school, gave evidence for the Crown yesterday.
She told the court the accused had recommended in 2000 that she take out a mortgage on her home to invest with Bradley's business, B'On Financial Services.
The defendant ran the company with her husband, Mike Bradley, who was also facing charges but died last year, weeks before the pair's trial was originally due to start.
While the couple were both directors of B'On, McDermond said yesterday she "only ever dealt with Jacqui".
After mortgaging her home, McDermond invested $140,000 with the Bradleys as well as a further $110,000 in 2004.
When she was diagnosed with a form of arthritis in 2006, the witness said she sold her terraced home and invested another $235,000 with B'On to build up her money before buying another property.
When McDermond tried to get her funds back in 2009 she was told by the accused that "it wasn't a good time to withdraw" them.
"It appeared to me that I was being fobbed off," McDermond said.
Although the witness hired a lawyer to get her money back, she had not received her funds by the time the Bradleys' business was placed into liquidation in December 2009.
Although McDermond believed she would be renting for only a short time after making her investment in B'On, she said yesterday she was still a tenant.
"I'm renting because I've got nothing. I've got no home, no assets."
Another witness, who has name suppression, told the court yesterday she had more than $3 million invested with the accused.
The witness approached Bradley in the 1990s after reading her book of financial advice, The Winning Woman.
When the investor wanted to get her money back, Bradley wrote to her saying she deserved an explanation.
Bradley said in the letter the decision to withdraw was a "real slap in the face" after all the work that had gone into the witness' portfolio.