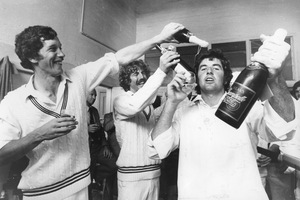 It was 35 years ago almost to the day. England all out for 64 to the Rampant Richards - Hadlee and Collinge - and New Zealand's first test win against the old colonial masters.
A fine day in Wellington but a robust wind, a bit of a ropey pitch at the Basin Reserve and England set just 137 to win. I was working at the parliamentary press gallery but Parliament was in recess and Rob Muldoon was away somewhere savaging someone else.
So when wickets began to fall, we legged it out of the source of power for sauce on some hot dogs that I now suspect may have been largely composed of horse.
When the dust settled on New Zealand's victory and some inept resistance by England, one entrepreneurial wag put out a postcard with a photo showing the old Basin Reserve scoreboard and that cold, damning total of 64.
I bought 64 of them, intending to send them to a friend in England on successive days so that a reminder of their humiliation arrived on a daily basis. I tired of the sport after a week but the point was made.
He texted me after New Zealand made their horrifying 47 against South Africa recently (ah, how communications have changed) saying: "Waiting for postcard to be printed."
There appears little chance of 64-all-out postcards or teasing texts being sent re this coming test series, even though the Black Caps came home with that historic one-day series win against South Africa and though they have been competitive - gratifyingly, satisfyingly so - against England so far. You know things are bad when you're happy with a competitive loss.

It's been good to see Brendon McCullum and Ross Taylor batting so well together after all the recent drama. The Black Caps need both firing to have any chance of success and, in doing so, McCullum has proved demonstrably that his best batting position is down the order. Just as we said of Taylor that he led from the front, so too has McCullum, though the front has been the middle, if you get my drift. The unsightly scars in the psyche of this team appear to be healing and, if they are not yet the united team of, say, 1978, they appear to be heading towards such a state.
Just as well, as this is now test cricket and most are expecting New Zealand to have their arses handed to them on a plate. Quite why New Zealand Cricket focuses on the short forms of the game ahead of tests is clear if you view the strategy from a financial perspective - but I have never heard it satisfactorily explained why other countries manage to be competitive in all three forms while we find it necessary to "focus".
We need to succeed in tests if we are to attract teams such as England (and Australia, India and South Africa) in the future and we also surely need to place them in real cricket grounds. This does not include Eden Park any more. Sadly. The short boundaries (the Guardian's cricket correspondent and former England player Mike Selvey called them "kindergarten boundaries") were a curiosity at first. Now they are an embarrassment.
Yet we chose to play the deciding ODI there last night and are due to play the third of the three tests there as well. It's - again - all about money, of course, but I am beginning to warm to the Auckland council's crackpot idea of moving cricket to Western Springs, speedway to Mt Smart, the Warriors to Eden Park, Emirates Team New Zealand to the top of Mt Eden, while the Phoenix and Gareth Morgan will be released into the wild by the SPCA. All right, I made those last two up.
Surely we can find/manufacture a real cricket ground in New Zealand's biggest city. Eden Park seems lost to international cricket, with the short boundaries making it a sort of concrete Pukekura Park (though if you have never been to that jewel of a cricket ground in New Plymouth, its beauty makes up for the fact that you can hurl a tea-towel over the boundary ropes from the batting crease).
Western Springs? The boundaries seem too small there as well. Turning Victoria Park into an international cricket ground seems much more interesting and palatable - but now that the council has a controlling stake in Eden Park, such ideas seem doomed.
In earthquake-damaged Christchurch, the loss of AMI Stadium means there are $20 million plans to redevelop Hagley Park as a test, World Cup and international cricket venue - a smaller, intimate setting more in keeping with the modern game than the vast stadia which seem half-empty even when they are half-full.
Such venues (and those plans are facing adamant opposition from some in Christchurch) tend to have far more character - which is what cricket thrives on.

Like the 1978 test in Christchurch that followed the '64' triumph in Wellington. That was the test where a 22-year-old Ian Botham made his maiden test century and, with the certainty and arrogance of youth, deliberately ran out an out-of-form, slow-scoring but characteristically selfish Geoff Boycott. Botham later said in an interview with Richie Benaud that he had to go for a walk behind the umpire to hide his mirth as an outraged Boycott spluttered in rage: "What have you done? What have you done?"
He'd won the test. England needed fast runs and Boycott, as ever, was thinking about Boycott first. This was also the test where Ewen Chatfield ran out Derek Randall by halting his run up and nicking off the bails as Randall backed up out of his crease - incensing the English. A maddened Bob Willis steamed in off the long run, his Dylanesque hair style flopping about, his angular legs and arms all seeming to head in different directions. He looked like a rooster chasing a hen, with free range eggs much in mind. Four wickets for nine runs later, New Zealand were out for 105 and the series was drawn.
That only happens in tests, not the hit-and-giggle stuff. It would be nice to think we could again compete in that arena and - talking of arenas - in a stadium which lent even more character to proceedings.
I'd just like to send my mate some more teasing postcards.
It's not the same when you have to write: "Yeah, well, we're focusing on the short forms."