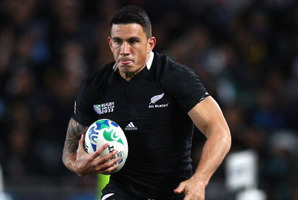 So it's farewell to Sonny Bill Williams. Will we ever see his like again? If you believe Gregor Paul, we will - and probably back in the All Blacks.
But it's what he represents that is really interesting; the new (for New Zealand) face of professional sport. When all the tumult and shouting was going on about SBW quitting the All Blacks to head to Japan (for the money) and then back to the NRL (not because of the money coming from the new A$1 billion broadcast deal; because, allegedly, of a handshake ... ), Williams' polarising abilities were apparent.
Many fans hate the idea that a player like that can turn his back on something they hold dear for money. Some of those defending Williams were talkback hosts and the like - who shrugged and said: "It's professional sport." They made it sound like it was something darkly inevitable - like global warming, glacier creep or lung disease for smokers.
The concept (and the reality) is that money rules and that old loyalties have been stuck in a blender and high-whizzed into a sort of sporting froth.
You know, like the froth you get served in many restaurants which tastes of its origins but which bears only a fluffy resemblance to them. Like bacon froth. What the hell happened to the bacon? If I want froth, I can go to the Waikato River and see all the results of dairy farming ...
The opposition to Williams' wanderings stems from a reluctance among fans to embrace the cold, money-grubbing focus of professional sport. This is still a country where most people are relaxed about sports stars earning more money in a month than many earn in a year. They even like it. But they don't want a lot of the stuff that comes with it - the elite professional with little or no conscience for whom money is The Great God and fans are necessary obstructions to be patted on the head and told how good they are for the game before said player sods off to another club/franchise/country.
Much of New Zealand, thank goodness, still clings to the notion that players owe the game rather than the other way round - and long may it stay so. It means and will always mean that we struggle in financial ways; trying to hang on to valued players when they can earn gazillions overseas.
It is why fans are so quick to slag off the Black Caps these days - they are perceived as having traded national pride for the almighty dollar, no matter how fair or unfair that might be. It is what makes fans here enjoy players like Richie McCaw; an athlete committed to his sport, his team(s) and thus the fans.
If we allow the full, dark embrace of professional sport, we may permit the worst excesses of same to enter the sporting bloodstream of this country.
If you want a glimpse of what that really means, read I Am The Secret Footballer: Lifting The Lid On The Beautiful Game - the book of the column in the Guardian newspaper by a current Premier League footballer whose anonymity allows him to be brutally, bruisingly honest about his sport and some of the worst excesses of the professional years.
If you believe The Secret Footballer - and his words have pungent honesty - money has changed the game and the players in marked ways. On the subject of players being caught with their pants down, he says: "There are plenty of footballers' partners who turn a blind eye to indiscretions because they know that the life they enjoy would disappear if they walked out. I know wives who have walked in on their other half when he's in full swing, gone shopping, come home and had his dinner on the table as if nothing had happened. They simply cannot do without a designer wardrobe, two weeks in Dubai and half of Tiffany's every Christmas and birthday, and so look the other way.
"During the boom years of the Premier League, my wife and I had a beautiful detached house with five bedrooms, a games room, a cinema and so many other rooms that I don't think I ever went in all of them. I had a full-sized snooker table that was used at the world championships, as well as a collection of games consoles that sat on a £6000 custom-made sideboard gathering dust.
"The house had its own mini-spa, including a hot tub, sauna and twin bath with a built-in TV that sat in its own wet room. Every wall displayed a piece of art, including an etching by Picasso. I drove the kids to their £30,000-a-term private school in one of three new cars. We holidayed in Barbados and Dubai and rented villas costing up to £30,000 a week which came with their own butlers and staff. In a really flush year, I'd fly my family and friends out to join us on private jets stuffed with champagne. Today, most of that has gone. A tax bill has all but wiped me out and everything that football bought me has been sold off."
Perhaps the most disturbing story was the "champagne war" - two tables of top footballers from different clubs were blowing off steam in Las Vegas and saw a high-class call girl they liked. TSF's table lost her to the others, sparking the champagne war. One sends over a bottle of champagne; the other table is then meant to reciprocate, and on it goes until the bill gets too big for one side to pay. If a table keeps playing but cannot afford to pay, they are forced into the ultimate loss of face - they are marched out of the club by security.
"The final bill?" wrote TSF. "Just short of US$130,000, excluding tip ... nowhere near the record but still a great effort."
If that is where Sonny Bill and his like are heading, good luck to them. They'll need it. If that is where professional sport is heading, that's why it is good that, in this little country, we still cling to some of the amateur ideals and value loyalty, commitment, understatement and the ability of a McCaw, to remain grounded.
It is also what makes the New Zealand sports fan feel sorry for people like Brian McClennan of the Warriors. In other countries - like the US or UK - he'd be reviled as a loser and become an internet figure of fun for a few days before being swallowed by the quicksands of selective amnesia.
His statement that his Warriors would win by scoring more points than the other guys came back to haunt him and, if professional sport and the relentless grind of the NRL caught him out, there is still a strong sense of a decent man and the hope he will do well in the future.