Jennifer Ennion savours the rare wildlife and mythic scenery of the South Pacific.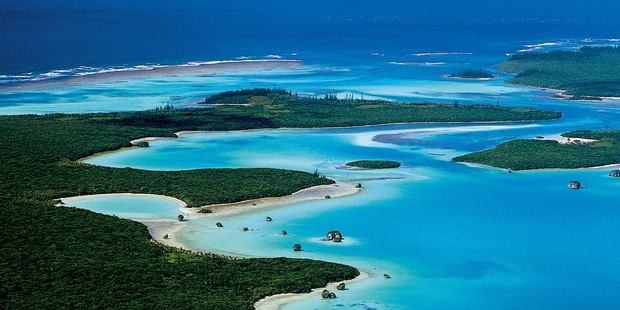 With piercing eyes she looks into mine as we bob in the South Pacific. She ducks her head back below the surface, and with a snorkel I follow her cue. We float there, just inches from the air and each other's face.
Mindful of her potentially sharp beak, I slowly lift a hand, pat her gently on the head and lightly scratch her moss-cloaked carapace.
She begins to turn, showing me an injury on her flipper - a shark bite, I'm later told.
We bob there for a moment more before this ancient mariner gracefully departs, swimming deeper in the salty water.
I emerge from the sea and blissfully return to my zodiac taxi.
Although I am at the aptly named Turtle Bay off the Isle of Pines in New Caledonia, I hadn't expected such an intimate encounter with one of the locals.
Turtles are curious creatures but are also in danger, with many threats to their survival stemming from human behaviour such as boat strikes and pollution.
Back on board the zodiac, my guide Rika tells me there are two female turtles here that are friendly with humans. Star is the loggerhead I just met.
Although I am worried about humans habituating wildlife, Rika, a Maori who shows P&O Cruises' passengers around his new home, assures me Star would have left in a flash if she so desired.
I accept his justification and can't help but feel especially fortunate to have been within centimetres of an endangered loggerhead in her natural habitat.
Just as Star did, we move on, heading away from Turtle Bay toward the open ocean.
Soon we are pulling up to Nokanhui atoll - a flick of white sand surrounded by sapphire water.
"This is where we all come when we're no longer here," says Rika, implying we've reached heaven.
It is such a beautiful place that it wouldn't have felt amiss if All Saints' Pure Shores suddenly began serenading bathers from one of the handful of moored boats.
I patrol the water's edge, following footprints in the sand from birds I cannot see and watching a lone cream crab scatter to safety.
A milk bottle, the only rubbish around, sits full of water on the shore, most likely brought here by the wind and current from Isle of Pines or a long-gone boat. Barnacles cling to its sides and it is scooped up and placed in the zodiac.
We're due to move on again but first I insist on diving into the almost-clear ocean for a soothing float.
As I lay on my back squinting into the bright sky, thoughts turn to the reef just beyond Nokanhui atoll. It is there scuba divers and snorkellers come across some of the giants of the sea - white-tipped reef sharks, stingrays, loggerhead turtles.
On this trip, I leave the reef to them and instead allow Rika to take me to another famed Isle jewel - the Natural Aquarium, as it is officially known, at Oro Bay.
A short walk along a shallow riverbed leads to a lagoon painted in such a bold aqua it appears to have been put through an Instagram filter; it's difficult to believe one's eyes.
On one side of the lagoon is a stretch of sand, while across the water on the other is a row of tall Wollemi pines. The pines are everywhere across the most sensibly named island, creating an almost mythical horizon.
There are a few tourists snorkelling in the Natural Aquarium but you can be content with letting the sun dry the salt on your body while you soak up the view from the beach.
It is a view I am reluctant to farewell later in the day when I wave goodbye to Rika and swap the zodiac for a tender, and the tender for a P&O Cruises superliner.
Once back on board the Pacific Jewel, I make my way to my suite where I am again staring out at rows of Wollemi pines from my private balcony.
It is where I stay until Jewel pulls away from her mooring and Isle of Pines becomes just a dot in the sea. A dot remembered for its friendly turtles, flicks of white sand and mythical horizon.
A dot that lodges itself into your conscience until that special day you get to return.
CHECKLIST
Getting there: Isle of Pines is in New Caledonia. P&O Cruises' Pacific Jewel, based in Sydney, offers cruises to the Pacific Islands including New Caledonia, Vanuatu and Fiji.
Further information: See pocruises.com.au.
The writer was a guest of P&O Cruises.
- AAP