Herald artist Richard Dale takes his sketchbook with him on board a luxury cruise liner making its round-the-world maiden voyage - but soon finds himself surrounded by sharks.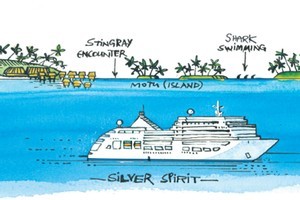 Voluntarily, and with no undue encouragement from the bystanders, I threw myself into the sea right in the middle of a school of feeding sharks.
Probably not what you'd expect from someone who scares easily and lives a mildly sheltered life in suburban Grey Lynn.
Admittedly these were black fin reef sharks, not overly aggressive, and at about 1m long not overly large either, but still ... sharks.
I blame it on the effect of having arrived here, the island of Bora Bora in French Polynesia, on the elite cruise liner Silver Spirit.
There's something about being on a ship like this that makes you feel relaxed, carefree, even a bit adventurous.
The Silver Spirit was on its round-the-world maiden voyage and we had joined it in Tahiti two days earlier for the Pacific Ocean leg from Papeete via Bora Bora, Raiatea and Rarotonga to Auckland. That's the sort of itinerary designed to stimulate a pleasant sense of envy on the part of others and Bora Bora, regularly listed as one of the world's top 10 holiday destinations, was the cherry in the mai tai.
The island is a spectacular sight with its dramatic volcanic peak at the centre, dark green with thick vegetation; and surrounded by small palm-covered motu at the reef's edge, all swimming in a warm lagoon of exquisite blue, in shades ranging from a pale milky tone to intense cobalt, which made the white of our ship anchored offshore even more resplendent.
The small town is pleasant and surprisingly uncommercial with an excellent stall at the wharf selling local products, where I bought a handsome woven palm hat at a good price, and a cluster of buildings dominated by the distinctive red spire of a church, a faceted-cone shape, common in colonial French church architecture.
In this charming context it seemed a little contradictory to jump into shark-infested waters but we had chosen to join an afternoon lagoon tour and the sharks were one of the highlights.
Our Tahitian guides, Moses and the owner's teenage son Johann, took us around the atoll in a fast open speedboat, and at the first stop at the edge of the atoll, there they were.
The water was a strong dark blue, seemingly deep and crystal clear, making it easy to see the 15 or so dark shapes which gathered in good Pavlovian manner in response to our boat's arrival.
Moses fed the sharks straight away and then invited us to join them. A few in the group refused. "There are some things that you just don't do," said one of our group. Johann and a plucky Londoner in his 60s took up the challenge but proved not to be the live feed I was half expecting. So I followed suit.
Close up, and circling around you, sharks are very serious. Keeping my fear under tight control, I floated more than swam with them, looking behind me as much as in front and with an eye on the boat's ladder. It was an eerie experience. Gliding beside and below, in constant circling arcs, the sharks were almost within arm's reach so I could readily see their cold, white unstaring eyes and mouths too small to do much damage.
After that stingrays were easy. Our next stop saw us walking around in shallow water among a school of stingrays docile enough to be picked up by cheeky Johann and nudged against unsuspecting tourists. I should acknowledge that their deadly Steve Irwin reputation freaked me out, but that only added to the hilarity of the occasion.
We didn't have to return to the ship until after 9pm which allowed for dinner on the island at the famous Bloody Mary's seafood restaurant which has a white sand floor. Back on board there was a Tahitian cultural night on the open pool deck, with a troop of vigorous local dancers and musicians, so we completed our Bora Bora experience in style... before heading for the next destination.
The Silver Spirit is the newest and largest of the Silversea line, though at 39,000 tonnes it is considered to be on the smaller side of ocean liners, having only 500 or so passengers and 250 crew.
As a first-time passenger, I expected at least to feel queasy at sea and had loaded up with ginger chews and armbands from the chemist in anticipation, but the ship was large and modern enough for a stable, rock-free journey.
Compared to the really large ships that carry 2000 passengers the Silver Spirit is rather modest - the library is a well kitted-out room rather than two floors with spiral staircase as on the Queen Mary - but its strength is its personalised service.
When we embarked a dozen crew, each of whom addressed us personally, welcomed us on board and we were offered more champagne than we could sensibly be interested in.
Our designated butler, Andung from Indonesia, dressed in black tie and tails, was waiting in our room to give us the induction: king-size bed, separate lounge, a walk-in wardrobe, a balcony overlooking the sea and a large bathroom with rain shower and separate bath.
The food at the six restaurants on board was equally impressive. At night it was often a matter of deciding which of three courses, in some cases five, we would omit. It was possible to eat all day with sumptuous breakfasts and lunches, high tea in the afternoon, and then a short breather - perhaps a visit to the observation lounge on the top deck for a bit of quiet and the panoramic view of the horizon ... accompanied by a cocktail with canapes followed soon after by dinner. Oh, and chocolates waiting in our room.
Comparisons with different ships are obviously a favourite pastime for seasoned cruise travellers. One retired lawyer from Malibu told me he had brought a tape measure and that his room on Spirit was 22cm narrower than on the sister ship Whisper. It seemed big enough to us.
The overall look of the interior referenced the style of the 1920s Golden Age of the ocean liner, a relaxed art deco aesthetic of brass, glass and wood panelling.
A sense of that age was carried through with the service, with butlers on every floor and an army of staff and crew to keep all the guests happy. If one person epitomised the service it was the Portuguese cruise director, Fernando de Oliveira, the first person we met when we embarked and the last person to say goodbye, and in between times keeping us informed of the daily schedule.
The captain also seemed to belong in that golden era. Angelo A Corsaro, an Italian of course, spoke to us every day at noon to report the ship's progress and his mellow tones were a joy.
At a point of high drama, when we couldn't land in Rarotonga due to a raging storm, he kept us informed of the changing situation with old-style European manners: "Good morning, Ladies-ah and Gentlemen. This is the-ah Captain. I apologise for intruding on your morning. I have some-ah good news, and some-ah not so good news." The good news was an extra day in New Zealand.
We happened to be on the bridge to see the captain in action as he negotiated the ship through the narrow entrance to Tauranga Harbour's narrow passage, obviously a tricky job. Once we were safely docked, the captain visibly relaxed, chatting amiably about the difficulty of the entry.
A couple of days later, as we farewelled our fellow passengers in Auckland, it struck me that - contrary to my preconceptions - what a real mix they were. It turns out you don't necessarily need to be millionaires to take this type of quality cruise.
A Swiss couple who were taking a half-the-world cruise - and who had always wanted to visit New Zealand - told us that they had saved for years and that this was a one-off for them, their trip of a lifetime.
I can concur.
CHECKLIST
Getting there: Air Tahiti Nui, the international airline of Tahiti and her islands, offers non-stop flights from Auckland to Papeete, in French Polynesia. Call (09) 308 3360.
Cruising: Silver Spirit is currently in the Mediterranean until October, offering a series of 7 to 12 day voyages. On August 20-27, she will sail from Rome to Venice, with calls in Sorrento, Taormina, Dubrovnik and Hvar.
Silversea will be returning to Australia and New Zealand for the 2011/2012 holiday season. Silver Shadow arrives in Sydney (from Singapore) on December 21 2011, and from there she will sail to Auckland on a 15-day voyage.
Further information: Contact Silversea Cruises on 0800 701 427.
Richard Dale was guest of Silversea Cruises and Air Tahiti Nui.