Gauguin finally has a fitting memorial, writes Diana Plater.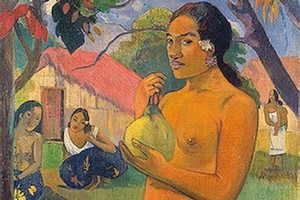 Everybody in French Polynesia has a story about Paul Gauguin. Works by the French post-Impressionist painter, who found his spiritual home in Tahiti, are priceless today.
But not so long ago it wasn't unusual for his paintings to be burned by locals who considered his depictions of topless Polynesian women pornographic.
There would be a lot of millionaires in French Polynesia today if they'd all just hung on to those original Gauguins, said Brenda Chinfoo, the manager of Tahiti's Gauguin Museum.
There are no originals at the museum near Taravao, about an hour's drive from Papeete, but that will change with renovations bringing the museum up to world standard.
The Tahitian Government is spending 200 million French Polynesian francs ($3 million) on the badly neglected building, set in a 137ha, tiki-dotted botanical garden by the sea, which was established by American botanist Harrison Smith between 1919-21.
Tahitian private collectors have only four authentic Gauguin paintings, but they will be loaned to the museum when it is renovated. The museum was established in 1965 with a grant from the Singer Foundation. The gardens include two tortoises from the Galapagos Islands - 150 and 200 years old - obtained in the 1940s.
Among the collection are three wooden spoons Gauguin carved, lithographs, letters and two ceramics. There's also a model of his home in Atuona, Hiva Oa.
Gauguin, a French stockbroker, was the grandson of Flora Tristan, a supporter of French mine workers. In his younger years, he was a seaman in the French imperial navy. In 1891 at the age of 43, he left his wife and five children to set sail in search of the roots of primitive art - landing in Tahiti after a journey that took him through Melbourne, Sydney and Noumea.
He lived at Mataiea with his 14-year-old mistress, Teha'amana, for a year and returned to France in 1893 with a collection of paintings and woodcarvings. His exhibition flopped and he returned to Tahiti two years later, this time poorer and infected with syphilis.
Finding a French art dealer, he continued to paint, living in different parts of French Polynesia including Punaauia. He died on May 8, 1903, at 55. His body was found at his home on the Marquesas Islands, where he is buried.
A local civil servant apparently wrote there was little hope of repaying his debts: "The few pictures left by the late painter ... have little prospect of finding purchaser."
Chinfoo said the painter sowed his seeds widely throughout Polynesia. "If you did his genealogy you would have to add Polynesian children," she says. "Of what we know there are five. In the Marquesas, they all say, 'He was my grandfather'."
Chinfoo believes one of these was a beggar at the Papeete markets, who claimed he was Gauguin's grandson and would draw pictures on coconuts.
"His descendants here got nothing. Nobody recognised his art, they didn't have a culture of art. He had syphilis, was an alcoholic," she says. "He had been wounded - his leg was broken and he had an open wound ... nobody liked him."
She said Gauguin considered himself a "pioneer making his future in new territories". He had been sponsored by the French Government to study and paint Tahiti's costumes and landscapes and arrived when Tahiti's last king, Pomare V, had just died.
Chinfoo points to a print of one of his paintings of women, saying the artist painted them as they were, not some European ideal of Polynesian women. "At the time, how could these people appreciate these paintings? Women with big legs. They didn't correspond to their idea of beauty."
In the late 1990s, the Government took over the running of the museum, which was so neglected the roof had fallen it. "They [the foundation] really neglected this place. We said it's time for you to give it back. I'm here to save the Gauguin museum."
CHECKLIST
If you go: The Gauguin Museum, Papeari, 12km southwest of Taravao. Call: 57 1058. Open from 9am-5pm seven days a week.
Getting around: Click here for more information on Tahiti.
Tahiti Travel Connection's seven-night package staying at Hotel Tahiti Nui starts from $2477 a person, twin share. Includes accommodation, return economy airfares with Air Tahiti Nui (ex-Sydney or Melbourne), taxes and transfers. Available for travel from July 15-December 21, 2010. For more information on conditions and how to book, contact Tahiti Travel Connection on +61 1300 858 305.
Getting there: Air Tahiti Nui offers three weekly one-stop flights from Australia to Papeete. For more information call 1300 732.
Diana Plater was a guest of Tahiti Tourisme and Air Tahiti Nui.
- AAP