Vanuatu's delights range from spectacular scenery to colourful people from another time, writes Nick Squires.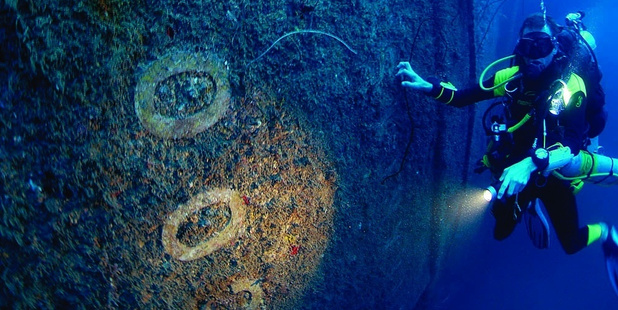 They lie on the seabed like the weapons of war of a phantom army, trucks, bulldozers and artillery pieces shrouded in khaki gloom.
This is Million Dollar Point, one of the most intriguing diving spots in the South Pacific, where the United States military dumped vast quantities of vehicles and equipment at the end of World War II.
The bizarre underwater junkyard lies just off a beach on Espiritu Santo, one of the 83 islands that make up Vanuatu.
The tangle of metal has been enthusiastically colonised by marine wildlife during the past six decades.
Dazzling red fire coral protruded from a ship's prow and a spectacular lionfish emerged from a dark porthole.
As the thrust of my fins took me ever deeper, I spotted a banded shrimp resting daintily on the metal seat of an army bulldozer, clams nestled in the barrel of a huge naval gun and yellow corals wrapped around rusted bulldozer tracks.
About 1.5km along the coast is an even more extraordinary dive site, the SS President Coolidge, a luxury liner converted to a troop ship during the war which sank after accidentally hitting a pair of American-laid mines in 1942.
The captain managed to ground it on a reef, saving all but two of its 5000 men.
It's now one of the most acclaimed wreck dives in the world. "The Coolidge is simply humungous, mind-boggling and gobsmacking," one guide raves.
Divers encounter jeeps, chandeliers, cannon and a swimming pool as they explore its flooded decks and cargo holds.
Million Dollar Pt and the President Coolidge were highlights of six days sailing around Vanuatu's lesser-known islands on the Oceanic Discoverer, an Australian-owned expedition cruise ship.
Unlike the big cruise ships, with their hundreds of passengers and cabaret shows, the Discoverer holds just 72 guests.
There's no gift shop or tanning salon, but there is an excellent library packed with intriguing tomes such as The Last Paradise, Birds of the Bismarck Archipelago and The Pacific War.
The cabins are comfortable, with large windows facing out to sea and the atmosphere is casual. "We don't dress up around here," said expedition leader Jamie Anderson, an Australian.
The OD, as the crew call it, is equipped with a specially designed excursion vessel - the Xplorer, which is lowered into the water on a hydraulic platform, making beach landings quick and easy.
There is also a glass-bottom coral viewing boat and a couple of Zodiac inflatables for divers and snorkellers.
All this enables the boat - which also cruises Papua New Guinea, the Solomon Islands, the fiords of New Zealand's South Island and the uninhabited Kimberley coast of northern Australia - to reach areas which are inaccessible to the big cruise ships.
Its compact size comes into its own in Vanuatu, where you can sail for hours and not see a village, jetty or sign of human habitation of any kind.
The country is still profoundly traditional, with 80 per cent of people living in thatched hut villages and growing their food in tiny garden plots surrounded by jungle so green it looks as though the leaves are lit from within.
The cruise starts in the capital, Port Vila, an unlikely blend of traditional Melanesian and metropolitan European influences; a legacy of its past as an Anglo-French condominium until independence in 1980.
Bus stops are marked "arret" and most of the street names are Francophone, from Avenue du General de Gaulle to Rue Bougainville.
The condominium was nicknamed the pandemonium because the colonial rivals ran competing administrations, with separate courts, prisons and schools, under a system so confusing that many locals thought the Queen and the President of France were a married couple.
We steamed out of Port Vila harbour, one of the prettiest in the Pacific, on the evening of the first day, sailing into a perfect sunset as the Oceanic Discoverer headed west and then north.
By the next morning, we had anchored in a bay off the coast of Ambrym, renowned as a centre of magic and sorcerers, known in pidgin English as "man blong majik".
Village women greeted us as we trekked up a blisteringly hot black sand beach into the shade of huge banyan trees.
The black sand comes from Ambrym's two lively volcanoes, Mt Marum and its twin, Mt Benbow, surrounded by ridges.
A string band of men in tropical print shirts warbled in heavily accented English: "We are living in paradise, please relax and enjoy your stay."
Anywhere else and it would have seemed horribly contrived. But this was only the third time that Oceanic Discoverer had visited the village and no other cruise ship or tourist operator comes here. The melodic greeting, and the smiles on peoples faces, were genuine.
As was the traditional rom dance the men put on for us. Dressed head to toe in thick, rustling cloaks made of dried banana leaves, their faces obscured by triangular, intricately painted masks, a dozen men stamped and danced on the soft black earth.
"The boat has brought a lot of vatu [money] to us," said elder Isaiah Bong, 50, referring to the fee Oceanic Discoverer pays to visit the village, as well as donations of medicines and school supplies. "So we're starting to go back to the old traditions, to teach our kids our customs."
That evening I stood on deck, glass of champagne in hand, and watched the fiery red glow of the volcanoes, clearly visible against the night sky.
The pattern was set - onshore in the morning and an afternoon of snorkelling, swimming or diving.
That night we cruised past Pentecost, the island famed for its naghol land diving ceremony, the origin of bungi jumping.
Men and boys hurl themselves from a flimsy wooden platform with only a vine tied around their ankles. If the vine is the right length, their heads will barely touch the softened soil beneath, blessing the coming yam harvest. If not, they are in trouble.
The next morning found us in a picture-perfect bay, opposite the village of Asanvari on the island of Maewo.
We were welcomed by the local chief, Nelson, and a group of men wearing boat-shaped feather head dresses and seed rattles in Asanvari's grandly named yacht club, a thatch-roofed hut paid for by a visiting US yachtsman.
I fell in with a local, Frank Siehi, who took me on a chest-pounding trek up a steep hillside and taught me how to greet people in the local language - one of more than 100 found in Vanuatu, making it per capita the world's most linguistically diverse nation.
Good morning was "runny" while good afternoon was an even less plausible "bongy". I wondered if he was taking the mickey, but he seemed genuine enough.
"How many pikinini you have?" Frank asked.
Vanuatu's quaint Bislama pidgin is a constant joy, although its childish simplicity can sometimes evoke the dialogue of a 1950s Tarzan movie.
"Mi no savvy" means "I don't understand", while a seagull is "pigeon blong solwota" [literally, a saltwater pigeon].
Prince Charles is known as "nambawan [No 1] pikinini blong kwin [Queen]".
Snorkelling off Asanvari was superb, the water was as warm as a bath and visibility extended to nearly 20m, revealing brightly coloured fish flitting around giant coral heads.
Later, as I read up on Captain Cook's exploration of the islands in 1774, I glimpsed a glossy arched back breaking the surface of the water. It was a dugong, or sea cow, plentiful in Vanuatu but endangered in many parts of the world.
After leaving Maewo, we spotted a pod of pilot whales gliding in the silky sea.
We steamed across a channel to the island of Ambae, the inspiration for James Michener's mythical Bali Hai in Tales of the South Pacific, based on his experiences as a naval officer in the New Hebrides in World War II.
In a scalloped bay, a rusted island trading vessel unloaded its cargo in a scene worthy of Conrad, muscular island men perched nonchalantly on its gunwales.
Huge leathery-winged flying fox bats flapped lazily overhead, like tropical vampires. The bats, considered a local delicacy, hung upside down like fruit pods from guano-streaked casuarina trees.
"This an area where its best not to look up with your mouth open," said expedition leader Anderson.
The next day we reached neighbouring Espiritu Santo, its curiously Iberian name conferred by the Portuguese explorer De Quiros in 1606.
We found we had one of the South Pacific's most renowned strands, Champagne Beach, all to ourselves.
It was a relief - the stunning horse-shoe of sugar-fine sand is popular with the big cruise ships, which can deposit up to 2000 day trippers at a time.
Delicate wild orchids grew on the moss-draped boughs of giant hardwood trees and a tiny beach bar made from corrugated iron and driftwood offered ice cold beers, even though it was only 8am.
The next day, Oceanic Discoverer nudged its way into South West Bay, on the island of Malekula, where the locals put on a spectacular tribal dance on the blindingly white beach, and I was given an unusual cooking lesson.
A dozen semi-naked men dressed in nothing but penis sheaths and glossy green leaves ululated in a jungle clearing as the ticklish business of how best to cook a human being was patiently explained to me.
"First, our ancestors would dig a hole in the ground like this," said villager Berna Kambai, using his finger to draw a rectangular shape in the sand.
"They'd put hot stones in the hole, then cut up the person into pieces and put those on top. They'd add in some yams and taro, put in some more hot rocks, and cover it all over with banana leaves to keep the steam in."
Standard baking time for the underground oven was three to five hours. And the chief of the village always got to eat the victim's head.
"We'd kill and eat people who stole our women or came to fight us, but we don't do that any more," said Kambai, stifling a high-pitched titter.
"We feel very sorry for those people now." Another giggle.
His contrition may not have been very convincing but his lurid tales of underground ovens and cannibal raids rang true. Incredibly, most anthropologists agree that Vanuatu's last recorded cannibal killing took place on Malekula in 1969.
The island was famed for the aggressiveness of its tribes. One of the most feared was the Big Nambas - so called for the large red nambas, or woven grass penis sheaths, that their men wore.
"We've adopted Christianity now and we wear clothes but when we dance we go back to the old ways," said Berna as a column of bare-chested men in towering masks stamped up the beach, singing and whooping.
The metre-tall masks were decorated with pig tusks and cockerel feathers, and miniature replicas were carried by small boys, their brows furrowed with concentration.
"There's no more war between the tribes, as you can see, we're very friendly," said Berna.
He was right. Internecine warfare seemed like ancient history as a teenage girl placed a floral lei around my neck, children scampered in the warm shallows and a leathery old man waved us goodbye.
"Tank you tumas [thank you very much] for coming to see us," he said in pidgin, a large red hibiscus tucked daintily behind his ear.
These days the only danger of being baked in Vanuatu is if you lie out in the tropical sun for too long.
CHECKLIST
Getting there: Air New Zealand flies to Vanuatu three times a week with one-way fares starting at $319 plus airport charges and taxes.
Cruising: Coral Princess Cruises offers cruises around Melanesia.