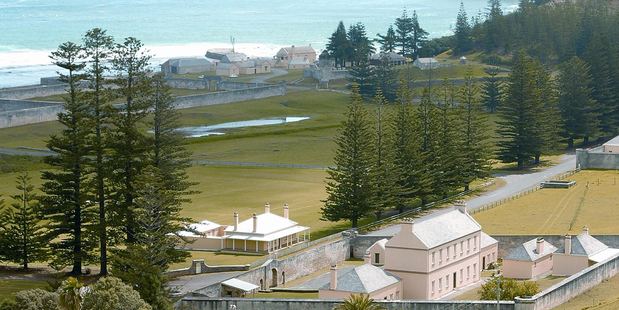 Norfolk Island may not have the sex-appeal of its flashier, resort-laden Pacific neighbours but she sure knows how to show a girl a good time. And I should know.
Now, when I hear people asking, "But isn't it a bit sedate?" I figure they've either never been there or they haven't updated their world view since, well, Norfolk was colonised by descendants of the Bounty mutineers.
So, let's review Norfolk Island: world-class scuba diving and snorkelling - check. Surfing - check. White sand beaches with warm, crystal-clear water - check. Hiking and biking trails - check. Tax-free shopping - check. Fine dining - check. Breweries and wineries - check. Good coffee - check.
And for those who are looking for an adrenaline hit of a different kind, Norfolk Island is, apparently, the most haunted place in Australia - no doubt thanks to its, at times, bloody history.
To put this underrated Pacific gem into perspective, one of the first places to visit on the island is the lookout on the summit of Mt Pitt - particularly at sunrise or sunset on a clear day.
From the lookout you have a clear view of the island's entire 8km by 5km coastline. And, with the exception of two tiny, uninhabited islands just offshore, you have a clear uninterrupted view of, well, lots and lots of the Pacific Ocean.
Nowhere else is it quite as apparent just how isolated this scenic lump of volcanic rock is. Imagine a spectacularly picturesque small New Zealand town floating in the middle of the sea.
It's a useful sensation to keep in mind when you are knee-deep in that bloody history at every turn. You cannot visit Norfolk without embracing, at some level, its past. It is embedded in the isolated landscape as much as the museums and historical re-enactments that could fill your holiday itinerary no problem at all, should you choose.
From the ruins of the penal colony at Kingston (I defy even the most history-averse tourist to wander around these ruins and not feel slightly eerie) to the ubiquitous Norfolk pines and the wandering cows, everything that makes this island unique can be traced back to its isolation and its previous incarnations as a brutal penal colony and a new home for Victorian Pitcairn refugees.
In the 1850s, when descendants of the Bounty mutineers had outgrown their previous tiny rock haven on Pitcairn Island, they wrote to Queen Victoria, asking for a similar but larger island.
She gave them Norfolk Island, which had just been shut down as a penal colony for the second time. In 1856, 142 Pitcairn settlers arrived on their new home and today more than a third of Norfolk's 1900 permanent residents are descendants of these Pitcairners.
You will come across many of them playing their own ancestors in the various re-enactments and plays laid on for visitors among the ruins and Victorian homesteads of Kingston.
I imagine there are very few places to visit where the person who stamps your passport or serves your dinner may well later turn up playing a convict or Bounty mutineer.
For those less interested in the drama there are plenty of museums to bring you up to date with the island's history as well as the surprisingly effective Cyclorama - which, rather than the bicycle history tour I first suspected it to be, is in fact a circular room, painted with the Mutiny on the Bounty story and its connection to Norfolk, painted by Pitcairn/mutiny descendants living on Norfolk.
Today, islanders pay no income tax and there is no duty on any shopping. Income for the island's government is raised through import duties.
Two other curious Norfolk Island facts: no building on Norfolk can exceed the height of the signature pines; and islanders have voted to keep Norfolk cellphone free, so leave your mobile at home.
For something different there are the enormously popular progressive dinners run by several tour companies. Over the course of an evening, starting at about 6pm, your bus driver will take you to the homes of four different island families, for a four-course meal - often comprised of traditional Norfolk dishes. The dinners are a unique way to really get to know the locals, and hear families' individual histories and what life is like on Norfolk.
It's hard to imagine tourism presented in such an intimate way anywhere else, not just in the Pacific but in the world.
And even if history and museum visits leave you cold and you'd run a mile to avoid them on holiday, there is another good reason to spend plenty of time in Kingston, and that is Emily Bay. This small but perfectly formed sandy beach, protected by a reef from the open sea is as appealing and inviting as any you'll find on other Pacific Islands.
It is also a launching point for the excellent and very popular glass-bottom boat tours which potter around the bay showing off the marine life for those not so keen to get their feet wet with a diving or snorkelling trip. Just be prepared to be a little flexible with your planning as the boat tours are dependant on a calm sea.
After a string of baking-hot, sunny days my last morning on the island dawned in a thick mist.
But as it happened that was perfect for my guided breakfast walk through the National Park - a paradise for bird watchers. Anything else would have been too hot.
And by the time we reached the Captain Cook monument - at the point where Cook is thought to have landed on the island after discovering it in 1774 - the cloud had cleared to reveal panoramic views across those endless Pacific waters again. The walk, an easy pace on an even path, ended with breakfast on the cliff tops.
It is one of many walks, guided or otherwise, of different difficulty levels, through the national park and a fitting way to take in the beauty of this unique island, one last time.
NEED TO KNOW
Getting there: Air New Zealand flies to Norfolk Island on Sundays and Wednesdays.
Getting around: The best way is by rental car, which costs from about $25 a day. There's no need to ever lock your car on the island, seatbelts are not required and within a few hundred metres you will have perfected the traditional and mandatory wave to all oncoming drivers. Oh, and give way to the cows.
Currency: The island is a self-governing, external territory of Australia, so take Aussie dollars. Canberra has launched a proposal to bring the island under Australian control.
Mobile phones: There are none. Leave yours at home as islanders voted some time ago to keep Norfolk cellphone free.
Island tours: Several tour operators run different bus tours on the island, from historical re-enactments to guided walks, garden tours and clifftop fish fries. They are all located in the central Burnt Pine shopping area, or visit the information centre.
150th anniversary: 2006 is the 150th anniversary of the arrival of Pitcairn Islanders, with celebrations planned throughout the year. The date of the landing was marked on Bounty Day, June 8.
Watch Wednesdays: Most of Norfolk traditionally shuts up shop on a Wednesday afternoon. Most shops and some restaurants are closed on Sundays.
More information: Contact Norfolk Island Tourism. Ph +67 232 2147.