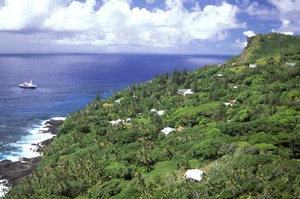 The world's remotest museum has opened on Pitcairn Island, Britain's far-flung colonial relic in the South Pacific, between New Zealand and South America.
The museum is part of a multimillion-dollar effort by the British Government to revive Pitcairn's flagging fortunes.
The colonial-style wooden building will showcase cannonballs, an anchor and a swivel gun from HMS Bounty, the Royal Navy ship which was hijacked by mutineers led by Fletcher Christian and sailed to uninhabited Pitcairn in 1790.
Tools made by early Polynesian settlers to the island will also be on display.
Pride of place goes to a Bible owned by Christian which has miraculously survived Pitcairn's tempestuous past.
The opening of the museum is the culmination of a saga in which the building's raw materials were twice transported across the world before finally reaching their intended destination.
They were first put on a ship sailing from Auckland in July last year, but bad weather and heavy seas prevented a landing at Pitcairn so the vessel continued its journey to Antwerp.
On the return voyage from Belgium the seas were again too rough and the ship had to bypass Pitcairn a second time and return to Auckland.
It was only on the third attempt, in December, that the ship was able to deposit the supplies safely in Bounty Bay, Pitcairn's only landing site.
"It's been a long time in the making," said Matthew Forbes, Pitcairn's deputy governor and the head of public affairs at the British High Commission in Wellington.
Pitcairn's British administrators are calling the new building the world's most travelled museum, after its epic voyages across the globe.
Officials hope the 80,000 ($200,000) museum will help to lure tourists from passing cruise ships to Pitcairn, where they will be able to buy handicrafts made by the islanders.
It is part of a concerted effort by Britain to restore hope to Pitcairn after the controversy of last year's sex trials, in which six island men were convicted of sex offences. Four were given jail sentences, but they remain free pending an appeal next year to the Privy Council in London.
Britain is spending 1.9 million on sealing the muddy track from Bounty Bay up a steep slope known as the Hill of Difficulty to Pitcairn's main settlement, Adamstown.
The jetty and slipway have been refurbished, making it safer for the island's longboats to unload visitors and supplies.
"Pitcairn's main revenue used to come from the sale of stamps, but kids aren't collecting stamps any more, they're playing computer games," Mr Forbes said.
"We're looking at ways of making it sustainable again and that includes tourism."
Each year about 10 cruise ships stop at Pitcairn, unloading hundreds of tourists.
Plans to build a breakwater to make Bounty Bay a safer harbour will enable more elderly cruise ship passengers to come ashore.
"We want tourism but in such a way that it won't destroy Pitcairn," Mr Forbes said.
"Cruise ships are ideal because they come for a day, then they leave."