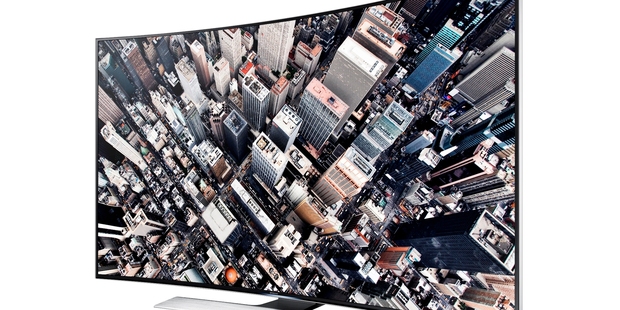 There's a new, curvy model in my life. She's shiny and smooth and she gleams and sparkles in all the right places. She's also kind of dominating. I mean, look at the size of her - she takes up an entire wall in my lounge.
Wait. Don't go. Before you turn the page due to an overdose of middle-aged male creepiness, let me explain: I'm talking about a television.
More specifically, it's one of those newfangled, ultra high-def, ultra sleek, and ultra expensive models that looks like a skateboard half-pipe, made out of glass and flipped on its side.
It's almost the same size. The 65-inch model that the nice people at Samsung kindly loaned me takes up so much wall space my lounge needed a makeover just to cram it in, and all the sound equipment it comes with.
It is, according to experts, the future of television. Specs like inbuilt 3D, 100Hz refresh rates and UHD upscaling, as well as Samsung's home theatre soundbar, probably have tech geeks drooling like an octopus at a shrimp party.
As Amazon.com user Kenneth A. Attorri puts it: "This TV produces ravishing, lush colours with spectacular quality!"
So now is probably not the right time for me to sheepishly admit that it's wasted on me. Sorry, Samsung, but you've probably loaned your awesomely futuristic TV to the wrong person.
To be honest, I had trouble even turning it on. The universal remote it comes with works like a laser pointer, but my scatterbrain can't work out how to point it in the right direction. I ended up waving my arms wildly around like those erratic guys in Fatboy Slim's Push the Tempo video.
Sigh. Me and technology just don't seem to mix, and my history with television sets isn't great. Until recently, I had one of those back-breaking TVs that weighs around 180kg, the kind responsible for crushing many an Aucklander's toe as they were dragged out of the garage and on to the street during inorganic collections.
I had been feeling rather chuffed about its slimmer, lighter, flat-screen replacement. But at 46 inches, my current TV doesn't come close to the beautiful 65-inch mammoth screen dominating my lounge. It's huge. My son could - and probably would, if I let him - use it as a seesaw.
That might anger Michael Bay. The Transformers directors is one of the TV's fans, but his endorsement of the "stellar" screens managed to embarrass everyone involved when he stomped off stage during a Samsung presentation at January's Consumer Electronics Show in Las Vegas after his autocue failed.
You can stream that incident through the TV's inbuilt YouTube function. My smartypants son worked that out quicker than I did so he could watch his favourite YouTube cartoons over its wireless connection. He also knows how to set up the TV's inbuilt photo gallery that turns your lounge into a sort of zoo. Perhaps he should have written this column. Either way, if you came here looking for a proper review of Samsung's flash new curved screens, you were never going to get it. Don't get me wrong: I like them, the curviness is a nice touch and provides an immersive experience. When there's more UHD content available for them, the quality is going to be unbeatable.
But for now, I'm happy to stick with what I've got. Perhaps the wise words of that Amazon commentator are worth heeding: "Get one if you can afford it. Or wait 12 months and it will be half the price."
- TimeOut