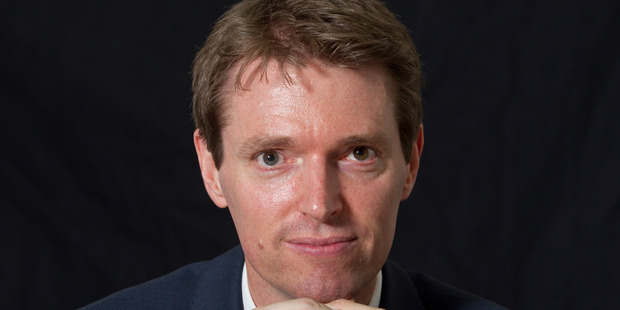 Conservative Party cry-baby Colin Craig has achieved the seeming impossible. He has managed to unite a grand alliance of National, Labour and the Greens against him, mocking his move to sue Green co-leader Russel Norman for defamation.
Mr Craig is upset that Dr Norman told the Big Gay Out audience that he "thinks a woman's place is in the kitchen and a gay man's place is in the closet". The Conservative leader is demanding an apology and retraction "to an audience of similar size". Dr Norman has said no, and Labour deputy leader and former Attorney-General David Parker has leaped to his defence, offering to act for the Green leader.
Prime Minister John Key has also chipped in, saying "what a waste of time", and warning Mr Craig that if he ever made it into Parliament, he'd need a phalanx of lawyers to deal with the flak.
Mr Craig, having got the country's attention, then tried to prove he shares kitchen duties with his wife by claiming to cook about six times a week, including lunches.
Which rather begs the question of who does the honours for the other 15 meals.
He flashed his hairy chest, too, bragging he was "pretty famous" for his meat dishes rather than the more effete salads - which we all know are women's work.
Millionaire Mr Craig says this is the sixth defamation threat he has instructed his lawyers to send out since entering the political arena. This time last year, he targeted blog satirist Ben Uffindell, who had linked floods in Nelson and the central North Island with the passage of the gay marriage act. Mr Uffindell was forced to apologise.
If Mr Craig feels misunderstood and misrepresented by his critics, the solution lies not in the libel courts but in his own hands. He should sort out exactly what he and his party's core values are. He variously claims to be "mainstream", "liberal" and "conservative". Let's throw "wacky" in for good measure. Then, when he's called out on one of his more eccentric comments, he is tempted to laugh it off as a tease, or blame the media for a beat-up.
In early December, radio DJ Marcus Lush asked him if he believed man had landed on the moon. "I have no idea, mate. That's what we're told," said Mr Craig. "I'm sort of inclined to believe it, but at the end of the day I haven't looked into it, and I know there are very serious people that question these things."
A few days before, in the "Ask Colin" section of the Conservatives' website he'd floated another looney-tunes moment. "Our party has no formal position on chemtrails. I am aware of the theory that chemicals are being released at high altitude for some nefarious purpose but don't know whether there is any truth in this or not."
Mr Craig obviously sees this as mainstream. The rest of us would put it in "woop woop, pull-up" territory.
There are similar gems scattered through the "Ask Colin" files. One correspondent, for instance, asks him, "What are your views on David Icke's Reptilian Hypothesis?" Wikipedia tells me Mr Icke was a former BBC sports presenter who in 1991, declared himself a "son of the Godhead" and predicted the world would soon be devastated by tidal waves and earthquakes. While we waited, he claimed the world was controlled by a secret group of reptilian humanoids.
Most "mainstream" leaders would have tossed such a query straight into the rubbish bin, but not Mr Craig. He knew of the Icke conspiracy. "As I understand it, Icke's first premise is that there are very powerful persons/families who as a global elite try and manipulate world events to their own advantage. While I can't subscribe to the reptilian hypothesis, I think this first premise has validity."
Talk of woop woop, pull up.
On getting a strike wing back into the air force: "We think a New Zealand squadron as part of the Australian air force, rotated to New Zealand on a part-year basis, is the best starting point ..."
On gangs renting from Housing New Zealand: "The problem arises when there is criminal activity. You rightly point out that a lot of traffic to a home at night is often a sign of such activity."
Then there's the issue of global warming. Colin responds: "Climate change happens for many reasons. Geological events (volcanoes) and astological events (sun flares) to name but 2, have a large influence ..."
I'm not sure what he means by astological. He uses it in several answers. The only word that comes close is astrological, which is the non-scientific, mumbo-jumbo background to the signs of the zodiac. Yet it's hard to imagine a mainstream party relying on the tools of fortune tellers. Even one acquainted with the Icke conspiracy theories.
My feeling is that anyone who flirts with such ideas should grow a thicker skin. Indeed anyone who enters politics should do the same and follow the Prime Minister's advice. Mr Key says: "If I took legal action every time I thought somebody had wronged me, my lawyers would be busy, too."
Debate on this article is now closed.