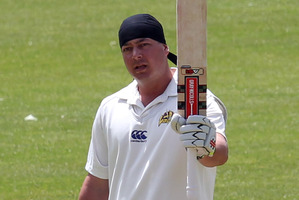 It's hard for people without talent to watch those who have it in spades squandering their opportunities. Those of us has-beens-who-never-were gnash our teeth in frustration watching people with gifts we would have killed for treating their talents with cavalier disregard.
There seems to be two ways of living with talent - the James Hunt way or the Nicki Lauda way. The two men were Formula One drivers from the 70s. Hunt was the original good-time boy - a blond, good-looking, hard-drinking, cocaine-snorting, adrenaline junkie who considered it his duty to leave no woman he met un-rogered. Lauda, on the other hand, was a cold, clinical analyst. He left little to chance and worked tirelessly to hone his skills, better his driving and master the tracks. You couldn't have had two more different competitors and yet both were evenly matched - until Hunt won his Grand Prix and gave up motor racing. He became a regular on game shows and commentary teams. He continued his hedonistic lifestyle until dropping dead at age 45. He sucked the marrow out of life and in two score years he was gone.
Lauda, however, is still with us - alive and well at 65, a successful businessman, married to a woman 30 years his junior and devoted to his kids. All in all you could say he has lived a remarkably successful life. And yet Hunt is one of the few men that Lauda says he envied. For someone like Lauda who needs to maintain control at all times, it must have been extraordinary to be in the company of a man who lived in the moment and lived for sensation. Hunt used and abused his talent - it was a means to an end. Lauda honed and polished and protected his talent - and both men got what they wanted and deserved.
In a week when the headlines should be focusing on the renaissance of test cricket, thanks to a hard-working Black Caps team of seasoned veterans and astonishingly talented youngsters, there has instead been much hand-wringing over what to do about Jesse Ryder - someone who didn't even play in the nail-biting test. Ryder is a man with extraordinary talent who seems to have absolutely no desire to make the most of it. All the column inches and talkback debate about what should be done with Ryder is pointless. It's Jesse's life. He's the one who has been given the hand and eye co-ordination that makes him a brilliant batsman. Consider his response to the story breaking of his late-night bar visit on the eve of a test match - a story he must have known would be putting his international career at risk. What does he do? He goes back to Otago and scores an easy century.
There was a time when a talented sportsman could live the life of the playboy and provided they turned up the goods on the day their indiscretions were excused. Those days were over long before Ryder was born. Now, discipline and the ability to be a team player are just as important as a talent for whacking a ball out of the park. And Ryder has been told he won't be welcome back in the Black Caps until he can earn the trust and respect of his teammates.
It's a shame for those of us who love our cricket and for anyone who hates seeing talent go to waste.
But it's Ryder's talent, not ours. He's the one with a special gift he didn't ask for and hasn't really done anything to earn. If he wants to squander that, it's entirely his choice.