Current affairs shows had it covered, if lightly - from swimming lessons to Mob encounters to comedy.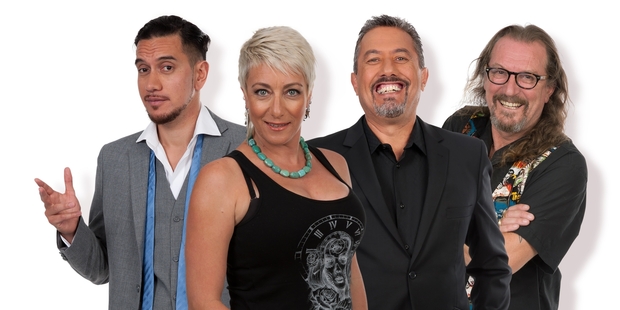 Coming over all patriotic on Waitangi Day, I wondered how our lively new world of local current affairs television would handle New Zealand's day of days.
In a mixed sort of a way, as it turned out, with the various shows struggling to find angles on something that really didn't need angles at all. But there were some surprises.
TV One's Seven Sharp, for instance, did actually acknowledge Waitangi Day, though not in a particularly informative way.
But poor Seven Sharp has its problems.
The ongoing one is that the elephant will always be in the room for the ill-named show - the elephant being the news of the day, which they often go to some trouble to avoid.
On Waitangi Day the show popped up looking a bit thin on presenters too, with Jesse Mulligan absent.
Mike Hosking and Toni Street alone together made an odd combo - like coffee over cornflakes.
Hosking, even now that he's trying to be nicer, has a caffeinated edge to him, which makes him uncomfortable onscreen company for the likes of Street, lately of TV One's light and fluffy Breakfast show.
Though, of course, Seven Sharp isn't really much less light and fluffy, which makes Street's rather dimmer approach a better fit than Hosking and all his twitchy intelligence.
And there was nothing particularly intelligent in their Waitangi coverage - reporter Heather du Plessis-Allan, up in Waitangi itself, awfully excited about an encounter with the Mongrel Mob. That was followed by colour pieces from two other towns called Waitangi.
Over on TV3 at 7, Campbell Live's angle was not to do anything at all on Waitangi Day, instead featuring John Campbell launching a laudable campaign to get people swimming - JC at the Parnell Pools, though not walking on water.
Far from it, in fact. He wasn't even prepared to set an example by stripping off and swimming.
Meanwhile, over on Maori TV at 7.30, they went for laughs with Crack Up, an hour of stand-up comedy hosted by Mike King, offering "the greatest comedians we could afford".
The funniest ones must have come cheap because the show was an end-to-end hoot, featuring five-minute blasts from a quick-fire string of comics, not a fizzer among them.
A big guy called Andre King might have had the best jokes, taking a positive stance on fatness.
For a meaner sort of Waitangi Day laugh, I turned to the Paul Henry Show (TV3, 10.30pm), where they were offering fulsome - or should that be foolsome - coverage of our national day and its dramas.
Henry, needless to say, was much taken with the news footage of Labour leader David Cunliffe and MP Shane Jones grabbing the rope to help haul a large waka safe from its stormy anchorage at Waitangi.
Joking with political editor Patrick Gower - grouchy at having to stay up late for the live link - Henry thought Cunliffe was more concerned with the cameras than the rescue.
And anyway, said the host, amid gales of giggles, "Shane Jones has much more experience pulling".
There's something insidiously inclusive about Henry's giggles. I might have to ration my exposure to them.