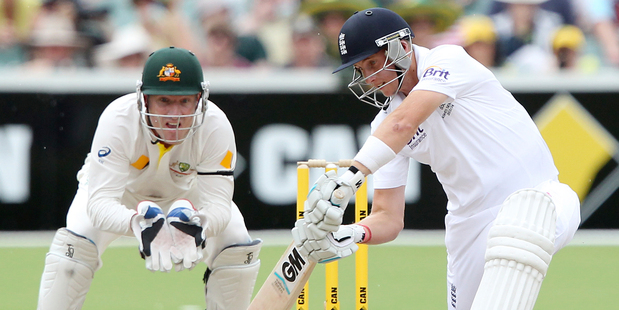 Cricket needs Confucius but unfortunately the current battle for control of the international game is more confusing than anything else. So let's look at a few of the pieces.
• The so-called test plan is a joke, a carve up, a sham if it does not include South Africa at the top table. South Africa are the best team in world cricket, they often have been, and always will be. India, England (and Wales, ha ha), and Australia are disappearing up their own backsides if they want to rule world cricket without South Africa permanently on board. It would be like trying to re-organise world rugby without including the All Blacks. England and Australia should be doubly ashamed of themselves for jumping into bed with India because it is the home of cricket match and spot fixing, an issue still out of control.
• Martin Snedden, New Zealand's chief negotiator, is doing a Neville Chamberlain in the old parlance - let's make peace with the baddies and pretend they aren't too bad.
Or to put it another way: if you can't beat them, join them even if you are going to get beaten anyway. While India, England and Australia have snuck around manipulating the game for themselves, the rest of cricket has failed to get organised properly so there is no effective opposition. Snedden's approach is one of "it's every man for himself". Maybe the Snedden method will pay off, maybe it won't or - as is most likely - it won't make a jot of difference. But Snedden has broken ranks before the ranks could get properly organised which is disconcerting. It's easy for a bloke with a keyboard to moralise of course - Snedden is walking a tightrope, in the real world. New Zealand are lightweights and India aren't to be messed with.
• Never trust an Aussie sports administrator. There's no regional loyalty here. New Zealand cricket has been shafted good and proper by the Aussies, like always. Remember, there was even a tour when vice-captain Michael Clarke went home to sort out a tiff with his girlfriend. Bet he wouldn't have done that during the Ashes. Aussie cricket treats New Zealand the way New Zealand rugby treats the Pacific Islands. India, England and Australia have gone behind the rest of cricket's back to come up with a scheme to suit themselves. Who knows - maybe it will benefit world cricket one day. But that will only be a lucky by-product of the inappropriately labelled Big Three looking after themselves.
• Never trust an Indian cricket administrator again ... they are making the itineraries up to suit themselves already. At one stage India supposedly wanted a third test on the current tour of New Zealand, and then they didn't. The common factor - New Zealand's wishes weren't taken into account. It's all about India folks, and the rest of us can go to hell. What happened in South Africa was even worse where India's dislike of a particular administrator was said to have played a part in the itinerary being reduced. India has justifiable historic grievances to do with colonialism. But now their cricket bosses are acting like arrogant jerks. They are like the Wall Street brigade, disgustingly rich characters who scheme to take over the rule-making process so they can protect their stash and get even richer.
• Never trust an English (and Welsh, ha ha) cricket administrator again. They also have ideas above their station. Considering their advantages and history, England are rubbish at cricket. They can't put a decent side together without a good sprinkling of South Africans, and no doubt they'll get their grubby hands on a few more once South Africa is shunted out of the inner circle. English cricket is so devoid of soul that it welcomed back Kevin Pietersen, a player caught sending derogatory and destabilising text messages about his own captain to the opposition.
• One body to take a strong moral stand, if you like, is the major international players' association. As with past players and administrators, this group is very concerned about an impending hijacking of the game. The player association's head Paul Marsh is to be congratulated on his firm stance. It must be tricky speaking out against the biggest paymaster especially when India appears capable of operating in a vindictive manner. Further to this, current leading players need to comment on how they would like the game organised.
• Once again, the ICC has been shown up as a joke. One of their own committees has been used as a Trojan horse to turn the game over to robber barons. The ICC can't even get basic issues right, like the standard introduction of technology. It even relies on the much-maligned tabloid press to uncover match fixing, and priced a World Cup out of the reach of local West Indian fans.
• I'm sick of hearing that India "produces" 80 per cent of the game's revenue. So what? English soccer - with it's massive broadcasting contract - dwarfs much of the rest of the game. But that doesn't mean it gets to control the international itineraries, which are based on properly run world and European competitions and qualifying systems. Cricket's international schedule is lopsided enough already - that's why New Zealand gets to play two-test series while the Ashes is over five games.
PS: Hopefully New Zealand continues to pulverise the touring Indians.
It won't help the cause of justice, but will be extra nice to see.