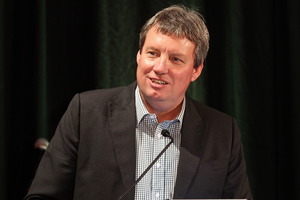 Working title: "This Just Ain't Cricket".
The story so far ...
A group of selfish heavyweights in a particular sport are locking up the goodies and gold for themselves, and the rest can suck eggs. The only way for the little people to get a reasonable slice of the action is to bow and scrape before these noddies, and that probably won't do much good.
But enough about rugby for now, and on to a similar and current cricket story.
If we are reading the interpretations of the ICC dramas right, world cricket is in serious upheaval. One interpretation is this: the hot breath of Indian cricket is about to further blow through the game. The financially strong Ashes combatants are safe, but the Indians don't care if they turn the rest of cricket into ashes. Even South Africa, with many outstanding players, won't get a place at the new top table. Quite wisely, Australia and England have hitched their wagon to the Indian express but everyone else will live on scraps of influence.
This is sport fixing.
Read more:
Snedden hopeful NZ Cricket will be fine
Cricket to be run by India, England & Australia?
Diplomacy a new game for Snedden
SA demand new look at cricket plan
The two men charged with enabling New Zealand to cling on to this runaway train are David White and Martin Snedden, who face the toughest assignments of their long sporting careers. The dour White, chief executive of New Zealand Cricket, has never appeared one of life's great diplomats but he's got a chance to prove otherwise. New Zealand cricket's lead international operator, Snedden, is a different kettle of fish. There is a lot resting on his shoulders, and he's tried to be buoyant about the situation.
Which is more than the rest of us can be. India rules world cricket - in reality if not name - anyway. India can make cricketers instantly rich via the IPL, or snub match technology when convenient. India can do what it likes, and is about to.
This turn of ICC events coincides - not coincidentally - with India's growing financial power as a nation and the realisation that it holds as many cricket cards as it wants to. The effects are already real. India trimmed its current tour of New Zealand by one test, which is nothing compared to the axe it took to the recent South African itinerary.
The extent to which the past injustices of colonialism drive India's cricket takeover are open to interpretation. But servant is now master and with deeper and longer lasting effects than those created by the resentment-fuelled West Indian teams who fought back on the field led by dangerously fast bowling.
Snedden's finest administrative hour was his masterminding of the 2011 Rugby World Cup tournament. Subsequently, he became a rare rugby leader to take up the cudgels on behalf of the Pacific Island rugby nations, pleading that the All Blacks should tour there. He has credibility when defending the little people.
The impending cricket upheaval is confusing so far. Things don't look good for New Zealand, but it's not clear either. If this goes pear-shaped, at least we'll get a lesson in perspective by finding out what it is like to be a Pacific Island rugby nation. What lies in store for our cricket might still be better than how the Pacific Islands - massive contributors to world rugby - have been treated by that sport's self-interested old boys network.

Show Kearney the door
Kiwis league coaching aspirant Richie Blackmore is right - the Steve Kearney era should be regarded as over. Time to move on. This is the fact - Kearney failed miserably at last year's World Cup.
The signs were not good before the final against Australia, where a shocking performance by a team laden with NRL stars ensued. The indications are that Kearney will re-apply for the Kiwis job, but he should do the right thing and stand down. Yes, the World Cup - with Wayne Bennett as his assistant - was won in 2008, but that is a long time ago.
Since then, there has been a significant tournament victory, but overall the Kiwis have not challenged Australia as they might nor performed well enough overall.
I sometimes wonder if having a head coach out of the NRL system might actually be a bad thing - there is a vast difference between preparing club teams compared to those for what are basically one-off assignments.
There has been a lack of fire and brimstone State of Origin style under Kearney. So Steve, you did a loyal and noble job, had your significant successes, but the time is up.

Big shock and a big shocker
Grand Slam tennis has produced another epic, with Stanislas Wawrinka's five-set victory over Novak Djokovic. This really is a long and golden era for the men's game and while Djokovic will be missed in the remainder of the Australian Open, the sport is enhanced by these shock results.
Not so impressive was the on court interview with Canadian Eugenie Bouchard, who was asked which international star she would most like to date. How demeaning for the game and sexist - it's most unlikely a male player would be asked such an irrelevant and puerile question.