India need to be part of tour schedule that should ensure development of game here and in other countries, says delegate to Dubai ICC meeting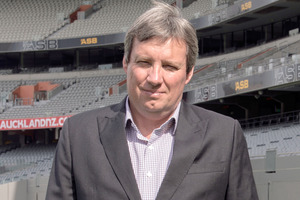 Martin Snedden remains optimistic that New Zealand Cricket will not be left out in the cold after a leaked proposal by the International Cricket Council to cede power to the "Big Three" of India, England and Australia.
The New Zealand Cricket board yesterday discussed the proposal in a teleconference and board member Snedden will next week travel to the ICC executive meeting in Dubai on January 28 alongside NZC chief executive David White with a list of five things they want agreed on before they give their support.
They are:
• That the result is a workable governance system for the ICC.
• The ratification of a playing schedule for the 10 main countries.
• ICC events schedule 2016-23 to be confirmed.
• Assurances from India that they buy into playing programme and events schedule.
• ICC events revenue sharing model ensures NZC revenue continues to grow over next eight to 10 years.
The controversial proposal was put together by the ICC's finance and commercial affairs committee and presented to its member boards on January 9. It has India, England and Australia controlling the executive board and picking and choosing which nations they play bilateral series against, rather than following the existing Future Tours Programme.
While India has been an unwilling participant of the Future Tours Programme, there are fears the powerhouse, in combination with England and Australia, will create an all-powerful bloc to the detriment of the rest of the world's cricket nations.
Snedden said much depended on the negotiations but it was entirely possible New Zealand would emerge with their current home and away schedule unchanged and a clearer picture of where India stood.
"There is some cynicism about it but what needs to be understood is that it's essential that India commit to whatever the end result is that comes out of this process," Snedden said.
"Otherwise, we'll be in exactly the same position that we are at the moment which is that India are not committing to the playing programmes that are on the table," he said.
"And that causes volatility and disruption and problems. Whereas if we can come up with something that results in stability of the playing programme that they buy into and we come out with something around the revenue-sharing model that they buy into then that's going to take us a long way forward."
The proposal will go to a vote in Dubai. South Africa have already said they are against the proposal, calling it unconstitutional.
The Federation of International Cricketers' Associations yesterday outlined its "extreme concern" at the proposal regarding the potential financial and scheduling ramifications.
"It is not in the best interests of the global game and we have real fears that it will only serve to strengthen the 'big three' countries whilst the rest are left to wither on the vine," said executive chairman Paul Marsh.
Snedden added: "If we were to come out with an outcome which had the Black Caps' playing programme clearly worse off in terms of quality and quantity, then I wouldn't be in the slightest surprised that people would look at us and say 'what have you done'.
"But that's not what we're setting out to do.
"People have to allow what is an intensive, volatile negotiation process to play its way out.
"I don't know how long it will take. It could take days, some of it might happen quite quickly ... or weeks or months, but don't misunderstand we go into this firmly fixed on an outcome which if we achieve will be good for NZ Cricket."
- APNZ