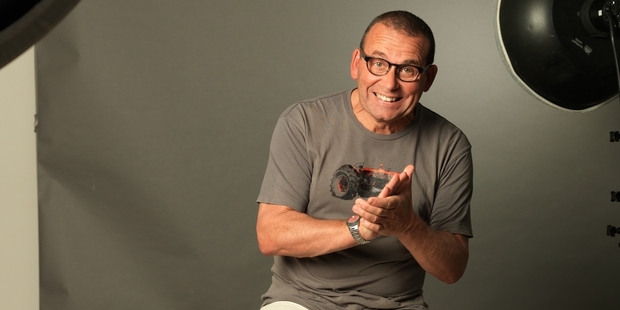 Paul Henry had better watch his motormouth, now that online activists have taken courage from their success in the Willie and JT scandal. MediaWorks is teeing up the new five-nights-a-week Paul Henry Show on TV3, featuring the former TVNZ Breakfast host who was dumped because of his racial comments.
After a virulent social media attack on Willie Jackson and John Tamihere's RadioLive show, fans and advertisers should worry that the social media mob has been emboldened.
How far will MediaWorks go in standing by the outrage merchant, loathed by sections of the web's world-wide left wing?
Activist Giovanni Tiso prompted an advertiser boycott that led to RadioLive taking Willie and JT off air.
So perhaps it's surprising MediaWorks is promoting the Henry show as having a news focus, meaning it will be subject to more onerous standards than those applying to entertainment programmes.
TV3 chief executive Paul Maher says the Paul Henry Show, replacing Nightline, will be part of the news and current affairs stable, and will include many of the current Nightline staff. With a 10:30 timeslot, Henry will have a freer rein than he did on Breakfast - but he will attract Henry Haters like a lightning rod.
The new show is still being worked out but a MediaWorks insider says even more than TV One's SevenSharp, it will change expectations of what counts as news on TV.
Meanwhile, MediaWorks' serious weekend current affairs programme The Nation is moving inhouse from independent production company Front Page. Rachel Smalley is moving on and 3rd Degree presenters Guyon Espiner and Duncan Garner will front the show.
There is some debate whether the name The Nation will remain, but there are said to be "accounting benefits" for the taxpayer-funded show being made inhouse.
HOORAY FOR HOLLYWOOD
I get into trouble for saying that MediaWorks "dominates" news and current affairs, because TVNZ points out shows like Fair Go and Sunday have much bigger audiences than TV3's.
I use the term subjectively, based on TV3's journalism and quality content, the number of stories they break and its leading role in issues journalism.
Based on its market research, TVNZ has taken the position that viewers have lost interest in traditional current affairs, resulting in a light magazine show like Seven Sharp which does not feature the big news stories of the day. TVNZ head of television Jeff Latch believes Seven Sharp redefined the 7pm timeslot, and in a sense he's right.
On Wednesday Latch unveiled TVNZ's 2014 programming line-up, with an expected focus on its big output deals with Hollywood studios such as Warner Bros. and Disney, and a renewed deal with UK distributor ITV. This contrasts with MediaWorks, which is pulling back from output deals and concentrating on buying shows on the spot market, which it says avoids being lumbered with unattractive surplus content.
The output deals, with around 1400 hours of programming, provide TVNZ security in filling its off-peak hours. Latch denied the state owned broadcaster faced large write-offs on TV rights that will drag down profits.
While common in the past, he said, there had been no programming write-offs for seven years. TVNZ is also actively seeking out other one-off programming deals, including trying to pick up MediaWorks shows now on the market after TV3 lost its Fox deal.
Latch confirmed anti-terrorist drama Homeland was among those shows. It's understood Sky is also looking to beat TV3 to the show.
COMME CI, COMME CA
Maori Television head of news and current affairs Julian Wilcox says he's not interested in being Labour candidate for the Tamaki Makaurau electorate. 3 News political correspondent Patrick Gower reported Wilcox had been approached.
Wilcox confirms it would be untenable for him to head news and current affairs while maintaining a relationship with a political party. He says he is very happy with his role at Maori TV. He has an interest in the MTS chief executive vacancy and is not planning a political career.
Yet Wilcox would be a popular choice - good-looking, confident, articulate in both languages, he is steeped in Maori and appears to be part of a new broom in Maoridom, replacing what one Maori contact calls "the Old Bros Network". His profile as a journalist and interviewer would help name recognition.
It would be good for MTS to resolve any question about its leadership. Given its structure, Maori TV is politicised enough.
You may remember the debacle over the appointment of a new CEO in which the MTS chairman - former National Cabinet minister Georgina te Heuheu - defended herself against criticism of the board's handling of the appointment, which led to board member Ian Taylor's resignation.
The Government and Maori Party failed to act on criticism of the process, which led to more than half of MTS staff signing a petition opposing the appointment of one of the candidates, former TVNZ executive Paora Maxwell.
Wilcox isn't ruling out going for the CEO role.
Maori TV news and current affairs has made some powerful enemies inside the Maori establishment with its series about the kohanga reo trust, which forced the Government to conduct a review of its processes. Te Putahi Paoho, the Maori Television Electoral College, appoints four of the seven members of the MTS board, and is itself made up of leading lights in the Maori establishment, headed by Willie Jackson of the Manukau Urban Maori Trust that runs Radio Waatea.
Under new arrangements, extra frequencies available under digitisation will go to the trust rather than MTS, giving it a potentially significant role.
Radio Waatea, like others including Maori party co-leader Tariana Turia, has been a strong critic of MTS and the kohanga reo investigation, seen by some as showing the "pakeha-fication" of Maori media.
BUSINESS ASSOCIATES
Another aspect to the suspension of Willie and JT is that the two Maori politicians, who have roles in the Waipareira and Manukau trusts, have a commercial relationship with MediaWorks, distinct from their announcing roles on RadioLive.
The two trusts have been allocated radio frequencies as part of the Crown's Treaty of Waitangi obligations.
These frequencies have been provided to MediaWorks on a commercial basis, for the station George FM. There is no suggestion of a link between the trusts' commercial arrangement and the pair's announcing roles.
However, RadioLive's handling of Willie and JT - far and away New Zealand's highest profile Maori broadcasters - will be of intense interest in the Maori broadcasting sector.
CURIOUSER, CURIOUSER
MediaWorks and the handling of the Roast Busters controversy gets stranger and stranger. The whole issue goes back to Willie and JT's interview with Amy - a woman introduced as knowing a Roast Busters victim - who was subjected to questioning that included asking when she had lost her virginity. This led to the boycott, the suspension of the show and two on-air apologies.
I wondered where Amy fitted into this process and what contact there had been with her, so I asked RadioLive if it had approached her to apologise directly, or if she had made a formal complaint about her treatment.
RadioLive said it had sent her an email last week, but had no response. "We believe she is a genuine caller, but as with all talkback callers, it is up to the caller to provide or not provide contact details," the station said. So the person at the centre of this row seems to have disappeared into the ether, and no one knows what she thinks of the way things turned out.