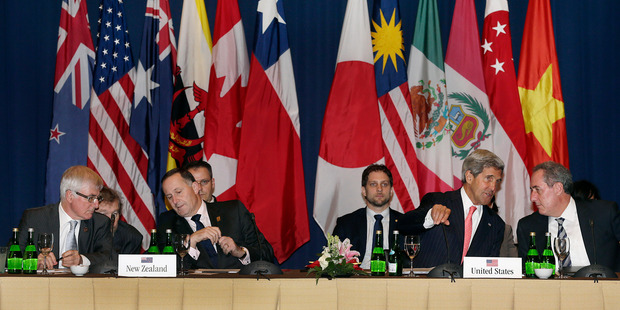 U.S. Secretary of State John Kerry, Michael Froman, New Zealand Prime Minister John Key, Trade Minister Tim Grosser. Photo / AP
More than 20 years ago future Nobel Prize winner Paul Krugman's analysis of the implications of a world trading system dominated by three major trading blocs led him to conclude that the greatest economic damage from such a development would be suffered by the "innocent bystanders" - countries unable (or unwilling) to secure admission to any of the blocs.
We once again face the prospect of a world trading system dominated by a slightly expanded set of regional mega-agreements with the emergence not only of the Trans Pacific Partnership (TPP), but also the Asean-centred Regional Comprehensive Economic Partnership (RCEP) in East Asia, the potential Free Trade Area of the Asia Pacific (FTAAP), and further afield the trade and investment agreement between the US and the EU now under negotiation.
Another fundamental change is the way international trade is becoming increasingly organised around global value chains for both goods and services.
This would mean a country's future success in international trade will depend on its ability to position itself to best advantage in these value chains.
Mega-agreements like the TPP and RCEP are explicitly intended not just to remove barriers to goods moving across borders, but also to create an environment in which value chains can operate smoothly and efficiently.
Members of these mega-agreements will become more attractive as hosts for operations within these value chains, relative to countries left out of them, adding both to the benefits of preferential market access enjoyed by the members, and also to the costs of the discrimination in terms of market access suffered by those left out.
If the TPP and RCEP go ahead, the countries participating in them will have a privileged position in trade connections in the most dynamic region of the global economy, while those left out will struggle to minimise the substantial costs of exclusion.
There are significant areas of concern in the issues being negotiated, and it is right that they should be kept at the forefront of negotiators' attention.
However, New Zealand's economic interests demand it remains engaged with both processes as long as they have prospects of success on acceptable terms.
We need to continue working together with other participants to ensure the potential benefits are delivered without unacceptable cost, so that the "doomsday scenario" so confidently trumpeted as fact by the opponents of these initiatives never materialises, and the painful decision that New Zealand might have to make in that event is avoided.
Not too much should be read into the non-conclusion of the TPP negotiations at this month's Apec meeting.
No realistic observer would have expected a conclusion at this point, with or without the presence of President Obama, and even an end-of-year deadline may be over-ambitious.
Mr Key is right to insist it is better to take the time needed for the effort to "get the outcome right".
Getting the outcome right is important not only for New Zealand's specific trade and economic interests, but also because the rules established in the TPP and other new mega-agreements are likely to have a significant influence on the future setting of global trade rules.
A much more serious threat to progress is the potentially severe blow to perceptions of the US as a reliable partner inflicted by the spectacle of its government being hijacked by Tea Party activists.
If loss of confidence in the US begins to snowball as a result, the centre of gravity in regional integration efforts could shift towards the East Asian process, which will inevitably end up heavily influenced if not dominated by China, however much Asean may protest to the contrary.
This outcome may be unlooked for but need not be feared by New Zealand and eventually could occur anyway, so it should already be part of our strategy for the future.


Associate professor Robert Scollay is director of the Apec Study Centre at the University of Auckland Business School.