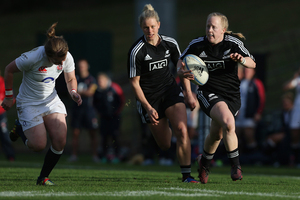 I laughed out loud when I read a Wellington woman's naive newspaper complaint about television's failure to cover the Black Ferns women's rugby team. How to explain? Cautiously I think.
First, television is swamped with rugby to the point of overkill, which may explain the poor ground attendances.
A pre-World Cup survey revealed 40 per cent of us have absolutely no interest in rugby and another 20 per cent, only a passing interest. That still leaves a sizeable 40 per cent of devotees, thus the heavy coverage.
So why not the women? The following will elucidate.
A couple of decades back during the Canadian Women's Golf Open, in the news lately due to Lydia Ko's splendid triumph, one of the world's top players asked another whether she'd received her invitation to the coming French Open.
On learning she hadn't and prompted by the excitement she'd overheard by some of the teenage players who improbably had received invitations, she made inquires. This revealed many younger golfers had been asked, but none of the automatic entry, top ranked players.
A fuss ensued and eventually to much outrage, the explanation emerged.
It transpired that the French Women's Golf Association had received the shock news from the state television channel that due to poor ratings they wouldn't buy the tournament any longer. In the interest of promoting their sport, the golf authorities then offered it free. Still the channel declined on the same grounds, namely mediocre ratings. This led to a pragmatic solution, namely they'd only invite pretty players, who unsurprisingly were low ranking teenagers and included only one of the then top 20. When this become known, worldwide feminine outrage erupted although I suspect most men and all of France, they having a different outlook on such matters, found this perfectly reasonable and couldn't understand what the hullabaloo was about.
Back then women's golf was like opera, the top performers in both frequently resembling sumo wrestlers. At one of her farewell performances at the Sydney Opera House I heard Dame Joan Sutherland sing as Amalia in Verdi's I Masnadieri. At one point she was obliged to swoon backwards into the arms of a poor bugger, producing an embarrassing loud crackling of the floor boards. Dubbing Joan La Stupenda was certainly pushing it.
Those days are gone. Today's divas are often knockouts and likewise many of the top women's golfers, thus the constant television coverage. And I'd wager the pretty Black Sticks hockey players get heaps more TV than their male counterparts, this a reflection of the all-important audience ratings.
On a different note, take the world's most successful airline, Singapore Airlines. They have a single advertising message, "Singapore Girl", confined solely to promoting their stunning hostesses who are ejected, so one once told me, when they hit 32, whereupon they're officially categorised as crones. Thai Airways has now copied the same advertising strategy.
All of this is simply acknowledging reality, as much as women may complain. That protest has been enshrined in American law leading to grandmotherly air hostesses who one feels like offering one's seat to.
Once in Las Vegas for a heavyweight title fight I was taken to lunch by the manager of Caesar's Palace, where the bout was to occur.
Afterwards, walking through the ghastly massive main gambling hall, awash with pretty university, part-time drinks-dispensing girls in degrading bunny outfits, the gruesome spectacle loomed of a skin and bones elderly woman, similarly clad.
A novelty item I assumed. Far from it, as the manager angrily explained. They had been forced to employ her under the age discrimination law. All such measures achieve is to ridicule women.
But there's another side of the coin as Maria Sharapova joyfully pointed out after Wimbledon this year, when not for the first time a male player complained of the much lesser skilled women receiving identical prize-money.
"We're pretty, you're not, so it's us who pull the television audience," Maria retorted.
She's absolutely right and on that basis they should be paid more than the men. Sporting audiences are mainly men who whether bishop or judge, are biologically programmed to ogle pretty girls.
Offer them the choice of watching either the Black Ferns in action or Anna Kournikova quietly reading a book and they'll take the literary option every time.
Why women are bewildered by this puzzles me, for they wouldn't exist if it wasn't so.
But it can have its funny side. Some years back my sister happily advised that her teenage son and his mates had finally seen the light, musically speaking, and gone to a classical concert.
"A violinist per chance?" I inquired lightly, and on receiving her affirmation, weighed up whether to spill the beans and spoil her pleasure.
Honesty prevailed so I explained the violinist, Vanessa Mae, to her.