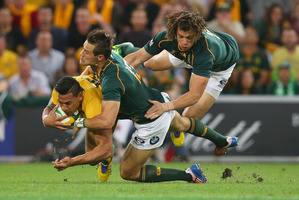 Every international team have their strengths but the Springboks are a particularly physical side - it's been the same since year dot.
The physical confrontation is what blows away most of the Springbok opposition and we are one of the few teams in the world who can handle the physical factor.
We saw in the weekend that the Wallabies can't handle it, but we can.
When a Springbok team are playing well, the only side in the world who can beat them are New Zealand and sometimes we can't beat them either, which is why I think they are our number one adversary.
The Australians have had their moments through being clever and playing a good brand of rugby but they lack the physical presence of the Springboks, who are big, strong men used to playing at a fast pace in good conditions.
The game of rugby is all about winning the contest areas and the Springboks are pretty effective at that.
They treat us with high regard and have incredible respect for the All Blacks and New Zealand rugby players because we can beat them and are very consistent in our performance levels. They don't have the same regard for other teams, I'm pretty positive about that.
We toured over there for weeks and it was very hard to win with local referees in South Africa and that is a fact, not an accusation, and I think it was similar for them here in New Zealand.
I played three tests when they toured here in 1981 and then for the Cavaliers in 1986 and of course in the Currie Cup.
They were and still are our greatest adversaries and they play a fast and powerful style of rugby which is a challenge for any loose forward.
They are the ultimate challenge - a test of your rugby manhood in many respects. Long may it continue, it's a great contest.