Let's start appreciating the many benefits of New Zealand's biggest city, writes Sudhir Rajagopalan.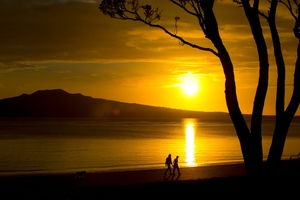 I am fed up with many people complaining incessantly about the problems in Auckland. There seems to be too much negativity in this awesome city.
Auckland has one of the lowest population density figures among most world cities. Auckland's 1.5 million people are spread out over a large area similar to that of Sydney, which has almost five million people. Not to mention London's eight million people and New York's more than 10 million people. Unlike Auckland, public transportation gets extremely congested in these cities. There are a lack of seats and people are often packed in like sardines in buses and trains.
From an international perspective, Auckland's traffic congestion "nightmare", pollution levels and public transportation issues are not so bad. In addition, we get lots of rain every year which helps reduce pollution levels in the air.
Auckland is unique because few cities can claim to be both a world-class urban centre and a beautiful garden city with so much scope for outdoor recreational activities.
Why does the rest of New Zealand (and a significant number of Aucklanders, too) hate Auckland so much? We are unfairly branded as an unfriendly city and bashed as "Jafas".
The true test of how friendly a city is is its level of acceptance of cultural diversity. In this respect, Auckland is far more friendly than the rest of New Zealand. The title Jafa should be renamed as "Just Another Fabulous Aucklander".
After the devastating Christchurch earthquakes in 2011, Aucklanders were quick to help Cantabrians with financial and emotional support. Many Aucklanders opened their homes to provide displaced Cantabrians with temporary accommodation. Many sympathetic employers in Auckland gave them employment. Despite this, many Cantabrians still dislike Aucklanders. What an ungrateful bunch they seem to be in Canterbury.
In other countries, most citizens are proud of their largest city. In my country of birth, Malaysia, most citizens are proud of their capital city Kuala Lumpur. And most Australians are proud of Sydney.
This anti-Auckland attitude is because of the notorious "tall poppy syndrome" at work in New Zealand. New Zealanders outside Auckland (and a significant number of Aucklanders, too) should get over it and embrace the city with pride.
Auckland is the world's largest Polynesian city and offers the tourist a unique Polynesian experience, be it Maori, Samoan, Tongan and so on.
Because of fierce competition, products like food, drink, clothes, cars and furniture and services such as plumbing, carpentry, electrical and car repairs are cheaper in Auckland compared to the rest of New Zealand.
The higher cost of living in terms of home purchase and rental prices, rates, public transport and petrol consumption are easily offset by the higher salaries and better job opportunities in Auckland, compared to the rest of New Zealand. So this must be held in perspective when Auckland is criticised by the rest of New Zealand for its high cost of living.
The rapidly rising house prices in Auckland can be controlled by preventing all non-citizens and non-residents from buying property. This is in the national interest. Most nations do this. High capital gains taxes can also be imposed to minimise speculation in the real estate market.
Many New Zealanders eagerly flock to Australia thinking the grass is greener across the Tasman because of the higher salaries there.
However, they fail to realise that in the long term, Australia's economy is not sustainable because it is overly dependent on mining. Minerals eventually run out. Australia's mining sector is now contracting because of reduced demand from China and other rapidly developing nations.
In addition, the cost of living is higher in Australia. There is stamp duty when homes are purchased, average property prices and food prices in restaurants are higher. Plumbing, carpentry, car repair and electrician charges are cut-throat. So are doctor, lawyer and accountant fees.
Other problems include severe water shortages, dangerous wildlife, unbearable heat, bush fires and severe flooding. It takes a lot of time to get anything done in Australia. Starting a new business, applying for permits or licenses and accessing government services can be very tiresome processes because of excessive bureaucracy and red tape.
Besides this, customer service in Australia is inefficient when compared to New Zealand. New Zealanders have far better work ethics than their counterparts across the Tasman. So to those whingers out there, please learn to appreciate absolutely awesome Auckland.
Sudhir Rajagopalan is a self-employed international marketing consultant living in Auckland. He is a former Christchurch Polytechnic marketing lecturer.
Debate on this article is now closed.