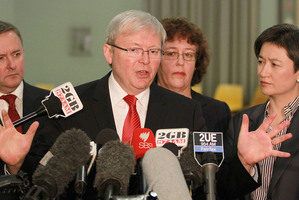 Like a conscientious schoolboy, Kevin Rudd has spent the past month working through a list of Things To Do Before Calling An Election.
Trump the Coalition in being beastly to refugees - tick. Give the carbon tax a new name (no one will notice) - tick. Distance myself from the cesspit of NSW Labor - tick. Make sure I can't be stabbed in the back by my own colleagues (again) - tick.
Yesterday, the Prime Minister gave himself a gold star - and stopped playing "guess the date" with the Australian electorate.
Who knows what historians will make of the past three years - one of the most bizarre and tempestuous periods in Australian political history - but on September 7 voters will finally get the chance to deliver their verdict.
Rudd chose a dark suit and jaunty crimson tie to match the upbeat but cautious tone of his speech announcing the start of the campaign. His hair was perfectly coiffed and his skin glowed. Was it my imagination, or was he wearing make-up?
His latest buzz phrase is "a new national competitiveness agenda". (Wake up at the back, Plumpington Minor!) Not terribly buzzy, but it will, he says, help Australia to forge a new economic path now that the Chinese resources boom is - according to Rudd - over. (Not everyone agrees.)
It's awkward when you can't campaign on your own record, having only been in the job for five weeks - and when your predecessor was widely loathed. The solution? Claim credit for one of the few things for which she was praised - and one can only imagine Julia Gillard's face yesterday as Rudd declared that "we've launched a better schools programme".
His speech had it all, including pathos, as he reminded voters of past Labor reforms which "made it possible for a kid from the Queensland country ... to chart his own future and end up as PM of this country", as he appealed to supporters to "chip in $5" to help with Labor's campaign.
Australians knew him "pretty well - warts and all", he declared. (Well, no one would argue with that.) They had seen him at his "highest highs" and "lowest lows". But, he promised, he had "learned from past mistakes". He was the underdog going into the campaign. (Australians love an underdog.) As for Tony Abbott, he concluded: "You can run but you can't hide."