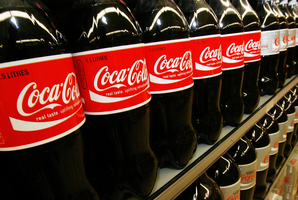 Coca-Cola is one of the world's truly great brands. It might be no more than fizzed flavoured water and sugar - a great deal of sugar - but last century it was the quintessential American product that literally conquered the globe.
It could be found everywhere, in places where travellers feared to drink the water and even behind the Iron Curtain, where its taste of sweet Western decadence has been credited with helping to influence the cold war.
So why now has it been thrown off balance by the campaign against obesity? The company's New Zealand division tried to seize the initiative from health promoters this week, with predictable results.
Coca-Cola NZ announced "commitments" that included increasing the number of smaller servings on the market, offering a wider selection of low-kilojoule drinks and displaying their calorie counts on vending machines.
It would run advertisements explaining how kilojoules affect body weight and it would promote physical exercise.
Corporate social responsibility can be a hard sell when a product has no redeeming merits.
If the company was seriously concerned about obesity, said those who are, it would take big bottles off the market and it would stop resisting taxation and regulatory proposals to discourage excessive consumption.
New Zealand's present Government shows no inclination to tax or regulate fats and sugar so it can be assumed Coke's local effort is part of an international response to New York Mayor Michael Bloomberg's attempt to ban super-sized sugary drinks from his city's cinemas and restaurants.
The ban was over-ruled by the New York Supreme Court on the application of a coalition of the soft-drink and fast-food industries.
Commenting on the ruling, Auckland University's professor of population nutrition and global health, Boyd Swinburn, said: "It shows the enormous power of the food industry. It seems to be marching from victory to victory around the world, including New Zealand."
Clearly at least one leading member of the industry does not share that view. Coca-Cola's decision to promote physical activity and calorie consciousness along with its product does not suggest it is confident it is winning the obesity debate. It must be desperate to have moved the debate on to its opponents' turf. The company cannot possibly win an argument that is framed purely in health terms.
The more it seeks credit for informing consumers of the risks of obesity and the need for exercise, the more vulnerable it is to the plain fact that the best thing manufacturers of soft drinks could do for obesity is take their products off the market.
They should not do so, of course, because health is not the only consideration. Pleasure is important too. Coca-Cola NZ was so anxious to promote public health this week that it failed to remind its critics of the reason its product is successful: a great many people like it very much.
It is not enough for companies to invoke the virtue of "choice" if it implies the consumers' choice of their product is unwise. Pleasure within reason is not unwise. It is healthy in its own way. Life would be dull if health was all that mattered.
Coke should continue selling its drink exactly as customers like it. The company is not in the business of public health and will struggle to convince anyone that it is.