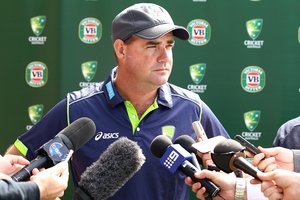 It's been a breakthrough week for the grievance industry with a white man claiming that racial discrimination was behind his sacking as Australian cricket coach.
At the time - 16 days before the current Ashes series got under way - Mickey Arthur appeared to take his dumping on the chin. Now, however, he's launched a $4.7 million wrongful dismissal suit against Cricket Australia alleging, among other things, that he was subjected to racial discrimination because he is a South African.
We can assume that Arthur, being a white South African, knows racial discrimination when it bites him on the wallet. Nevertheless, there are a couple of curious aspects to this affair.
The first is Arthur's insistence that he "didn't see it coming". This must make him practically the only sports-minded person in the English-speaking world who hasn't heard the saying about there being two types of coaches: those who have been sacked and those who will be sacked.
As Hurricanes coach Mark Hammett said this week, any coach who's in the job for long-term security is "in the wrong job. You shouldn't even start." Or as soccer's Tommy Docherty, who managed 13 clubs and the Scottish national team in his 27-year career, put it: "As one door closes, another slams in your face."
Secondly, call me naive but I would've thought that if the people who run Australian cricket have a problem with South Africans, they wouldn't have appointed Arthur in the first place.
Sevier reaction
Still, Arthur comes across as an unflinching fatalist compared to Chris Sevier who's taking legal action against Apple, claiming its products are responsible for the break-up of his marriage and his addiction to pornography.
It's a tale that will resonate with anyone who has ever blamed everyone and everything but themselves for their predicament. One day Sevier, who had supposedly never looked at porn in his life, was sitting at his computer trying to get on to Facebook. His fingers slipped, he inadvertently typed in www.f**kbook.com and, before you can say "breast implants", he was transported into a netherworld of filth from which there was no going back.
Now Sevier is threatening Apple with litigation and a damages claim if it doesn't block adult material on all its devices.
In documents filed in support of his claim, it states he can "no longer tell the difference between internet pornography and tangible intercourse due to content he accessed through Apple products".
With endorsements like that, who needs marketing?
Stockpiling ciggies
Someone who definitely doesn't want to be saved from himself is former West German chancellor Helmut Schmidt.
In response to a proposed European Union ban on menthol cigarettes, Schmidt went out and bought 200 cartons, meaning he's sitting on a stockpile of 38,000 fags.
While 38,000 might seem like a lot, at his reported consumption rate of two packets a day it's not much more than two and a half years' worth. And this is a bloke who once powered through 13 cigarettes in the course of a single interview. Just as well Kim Hill never got hold of him.
We are of course obliged to deplore this vile habit, but you have to admire a 94-year-old who is so determined to ensure that his enjoyment of life isn't compromised.
And while buying two and a half years' worth of cigarettes at his age might seem rather optimistic, Schmidt has survived World War II (he served on the Eastern Front and won an Iron Cross), the Cold War, the Baader-Meinhof terrorist gang and a truly colossal amount of nicotine.
Outrage Watch
Last month I wrote about the "outrage" that supposedly followed All Black Israel Dagg's use of the homophobic term "fag" in a late-night tweet.
What the media termed outrage turned out to be routine stridency from the sort of single-issue zealots who are always on the lookout for things to be deeply offended by.
This week Outrage Watch comes to you from Australia where Prime Minister Kevin Rudd is reported to be "under fire" for patting a disabled person on the head.
Careful scrutiny of the news item reveals that the fire directed at Rudd for ruffling a wheelchair-bound woman's hair came from a single source: comedian (God help us) and disability campaigner (surprise, surprise) Stella Young who was left "shaking with rage" at what appears, from the footage, to be a well-intentioned if somewhat awkward gesture.
Young believes disabled people are regarded as cute or a novelty and not treated with the respect and dignity afforded others.
This would come as news to Rudd's predecessor Julia Gillard who got precious little respect, indeed copped a fearful amount of disrespect, despite being a) able-bodied and b) the leader of the country.