Our intrepid columnist continues his climb of Mt Kilimanjaro.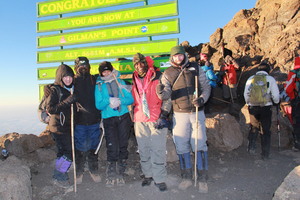 Day 5/6
We were woken at 10.30pm after roughly three hours' sleep. I jumped into my base layer tights, long johns, trousers and two pairs of socks. On the top half, four layers with an extra layer in my bag. Next we were given a cup of tea and a quick briefing and then we were off.
This was the hardest night of my life. The path up the mountain was extremely steep. It was dark (although there was a full moon) and the going was tough.
We walked for hours on scree, which is the stuff the dump truck piles outside your house when you want to make a driveway. I felt like a kid trying to climb an endless pile of pebbles. At first I was warm from the movement but the steeper it got the slower I got and this is when the bitter coldness set in.
Even with two sets of gloves my hands were still freezing. I developed a technique of placing one double-gloved hand in my jacket pocket as I walked to give it even more warmth.
When it was warmed up I swapped it with the other hand. This hand-in-pocket technique worked although it did give me a very casual look.
As we got higher the altitude affected my chest infection. I began to cough and splutter and my pace became very slow. I resembled an old man on his last legs walking in a rest home. Soon everyone else had gained ground on me. Chris, my tent buddy, stuck with me though, and Charlie the guide appeared from the darkness to help. He walked in front of me setting a very slow pace for me to match.
I was starting to lose it, I could feel it. "Resort to comedy, use your imagination!" I said to myself. I lifted my gaze from my feet to the zig-zag row of bodies climbing up ahead. It reminded me of a busy lunchtime queue at the bank.
"What are we all doing?" I thought. Then I imagined we were a line of "the entire world" slowly ascending a hill to receive three wishes from a magical genie at the top. I liked this idea. I spent a while choosing my wishes and then changing them. I tried to match Charlie's footsteps in front exactly. When I did we looked like we were in a Daft Punk video.
I really disliked this climb but I put that down to being unwell. I found it excruciating. At one point I gave Charlie my hiking pole. "I don't want the damn stick!" I yelled. He took it from me with a smile. He also took my backpack because it must've looked like I wasn't going to make it. But guess what?
I MADE IT. Six hours later as the sun was rising I reached the crater rim of the highest free-standing mountain in the world. There was a congratulations sign to greet me along with the rest of the team. I couldn't believe it. I just broke down. I was an emotional wreck. I couldn't stop crying ... and coughing.