Where does it stop if pets are upgraded from cargo class?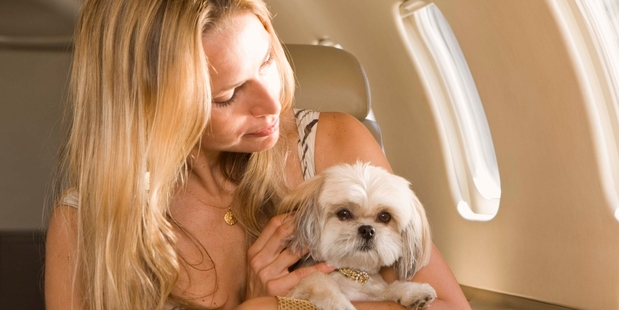 Around the world, attitudes to pets vary widely. In parts of Europe, dogs are regarded as virtual extensions of their owners and accompany them to hotels and restaurants. On airlines such as Air France and KLM, small dogs are welcome to sit at the feet of their owner in a transport bag or container. The same policy is pursued by most North American airlines.
In this country and others with a similar outlook, however, a far less pet-friendly policy is pursued. It can, therefore, be something of a surprise when dogs appear in the cabin.
Jenny Southan, a reviewer for Britain's Business Traveller magazine, pronounced herself shocked this week when two French bulldogs belonging to British TV host Steve Jones and his girlfriend were seated across the aisle from her on an Air New Zealand flight from Los Angeles to London. "It was quite unusual to see," she said, while admitting that the dogs seemed "quite content".
In fact, the only unusual aspect was that the dogs were not in a cage, a situation attributed by the airline to the animals providing a "psychiatric service".
Air New Zealand's policy is that all non-service dogs must be shipped as cargo. British Airways has the same policy, as does Qantas. It probably reflects the fact that passengers who may not care for animals in their personal space should not have their psychiatric equilibrium or sense of personal hygiene upset without choice. Once toy dogs are allowed, where does it stop?