Savings scheme and realistic goals make property dreams come true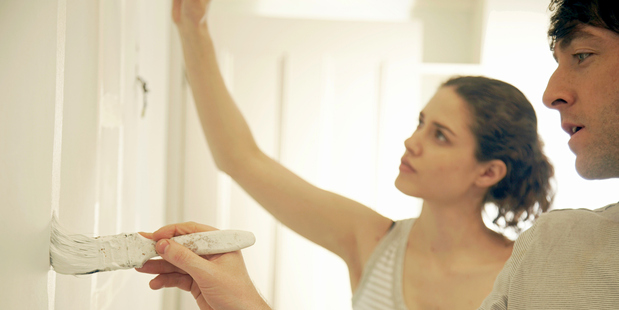 Great news this week. Nearly 11,000 people have used their KiwiSaver accounts in the past year to buy a first home. It's two fingers up to the naysayers who claim it's impossible to buy a first home in New Zealand.
Over the past year, I've talked to more and more first-home buyers who have used their KiwiSaver accounts to get a foot in the door of home ownership.
Some would have saved their deposit anyway. But most say KiwiSaver's first-home subsidies and/or withdrawal provisions got them over the line.
There are two ways to use KiwiSaver money for a first home. One is a first-home withdrawal of the employee and employer's contributions. There is no income or property price cap for this. Anyone who has contributed to KiwiSaver for three years or more can do it.
The second is the first-home deposit subsidy of $1000 a year for each saver for up to five years, which can add up to $10,000 for a couple. It has an income cap of $100,000 for one or two people and $140,000 for three or more.
And it's available only for properties costing up to $400,000 in Auckland (less elsewhere).
Before anyone says "that's impossible, the average house price in Auckland is $628,205", check out the link http://tinyurl.com/qd8223q to see at least 1200 Auckland properties for sale for less than $400,000. They're first homes, not renovated Ponsonby villas.
Mortgage broker Jeff Royle, of iLender, says a good number of his first-home buyers are settling for sub-$400,000 properties. About half are using KiwiSaver money. Without it most would not have been able to buy.
Late last month, a 25-year-old computer engineer client used KiwiSaver to buy a $280,000 ex-state "do-up" in Glen Innes. It's not where he wants to live, but by improving the property he can expect to build up some equity and move on.
The idea of lowering their sights to something less than a grand palace with multiple bathrooms and shopping in less desirable suburbs is sinking in with first-home buyers, says Royle. One client, Wellingtonian Jonathan Swadling and his partner, Diana, were saving for a first home in north Porirua but switched their hunt to Kapiti, bringing forward the purchase by a couple of years.
"Suddenly [by looking at a cheaper suburb] we had sufficient money in the bank and KiwiSaver to buy now rather than waiting."
The couple's property cost $287,500 and their KiwiSaver withdrawal of $13,500 was almost enough to cover a 5 per cent deposit of $14,350.
Swadling believes many first-home buyers want to live in the style of their parents, or take a negative view.
"No one is going to say it is easy," he says. "But there are too many people listening to the ones that say it is impossible. I would say they should go out and investigate for themselves and see what they can do."
Trade Me member Tanya93 put into words what many first-home buyers feel about the "grime and floral prints" in the first-home market. She posted on the community forums that she had been spoiled by living in a nice rental, and was asking for advice on how to spot potential in "dumps".
"I do find it very hard to look past ugly carpet, etc ... I just need to suck it up, I think."
It's a big, brave step for any first-home buyer to lower his or her sights from a perfect home in a desirable suburb to a box with dated kitchen and ugly wallpaper in Mt Wellington, Mt Roskill, Glenfield or Kelston.
The naysayers will claim it's not possible to save a home deposit, with or without KiwiSaver.
But people on low incomes do it. I had the pleasure of interviewing a Ngai Tahu woman last year who started saving for her first home at 16. When she bought four years later, her friends were amazed.
Ondine Grace's story can be found on the Sorted.org.nz website. She lived cheaply, finding creative ways to save every last dollar. Money from KiwiSaver and the Ngai Tahu Whai Rawa matched savings scheme enabled her to buy a couple of years earlier than she'd planned.
About 25 per cent of Royle's first-home-buyer clients have financial support from their parents. And before the naysayers jump on that figure, it means 75 per cent don't get any help from their families and do it completely themselves.
It's not unusual to have 20-somethings buying their first home, says mortgage broker Stuart Wills of Mortgage Link West.
They don't always have high incomes either. Wills' clients Yasmin and Steven Kelly were just five years into teaching careers when they bought a 4-5 bedroom house for $365,000 in Te Atatu South last November.
They had planned to work overseas to save a house deposit, but found they had enough in their KiwiSaver accounts for a deposit. Three weeks later Wills had arranged a mortgage and the couple had found a property.
The mortgage, says Yasmin Kelly, costs them $140 a week more than rent had, which is not a huge hardship for them.
Buying a first home at such short notice was daunting for the couple. Wills schooled them in what to do and handled the tricky bits such as negotiating with the bank and making sure their real estate agent would take their KiwiSaver balance as a deposit.
The Kellys say they opted into KiwiSaver on day one of their teaching jobs so didn't notice the KiwiSaver contributions going.
One of the big issues with buying your first home with KiwiSaver, says Wills, is that lenders and estate agents often don't understand the process.
The KiwiSaver money is a contribution to a deposit, and can't be paid to a real estate agent's trust fund. It is paid to the solicitor on the day the purchase of the property is settled.
"Therefore this money is not available to form part of the initial deposit on the house, which is typically due on signing of the agreement," he said. "Unless the buyer is able to use their own money or family money, there will be no deposit available at the time of signing a purchase agreement or when the purchase goes unconditional."
The downside for vendors is that the buyer isn't putting any money on the table, which means they could pull out. But vendors are starting to get used to the idea, says Wills.
In Swadling's case the vendor was happy for the deposit to be in his lawyer's trust account rather than the real estate agent's.
Once Wills has talked to an agent he or she will usually redo the paperwork. If not, buyers have to find their own money or borrow to put a deposit down until the KiwiSaver money comes through.
It also takes about four weeks for the administration of the first-home subsidy through Housing NZ and there is a reasonable amount of paperwork to fill in. So don't leave it too long. Getting the first-home withdrawal is usually quicker, depending on the scheme provider, says Wills.
One big threat hangs over first-home buyers, although not everyone believes it will materialise. That is the Reserve Bank raising the minimum loan to value ratio as it is discussing.
This, says Royle, would price virtually all his first-time buyers out of the market. None has saved more than a 5 per cent deposit.
Every day, he says, he gets panicked calls from would-be first-home buyers who fear the move would set them back.