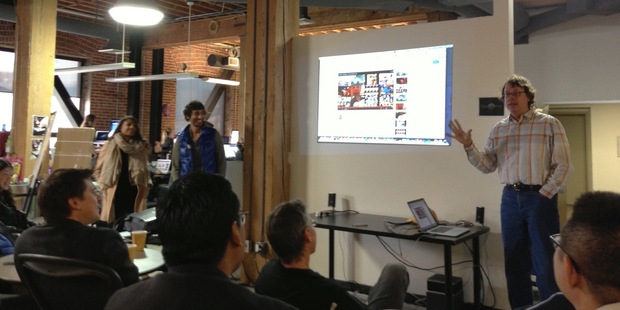 While I was in San Francisco I got the opportunity to talk to three diverse sets of app developers. One was musical and came about almost purely off the back of the iPhone's launch, the second was an 30-year Mac and PC program developer which had an unplanned for success with apps, and the other was an internet-based women's vintage clothing chain that has engaged deeply with iPad. I will also write about the other two at more length.
But the first company office we visited was Smule's San Francisco office (according to Smule's site, there's another in Palo Alto). The name 'Smule', by the way, turns out to be a contraction of 'Sonic Mule'. Of course.
Way back when, soon after the iPhone first came out, I had a chat with Sam Ing from the iPhone team at Apple, based at Cupertino. We discussed Smule's first app, as it happens, since it was so ingenious. That was Ocarina, which used the friction over the microphone to generate a tone you could play with keys on the touch screen. This was one of many examples of developments using iOS that seemed to both surprise and vindicate Apple's iOS team.
Ocarina is sensitive enough to detect tonguing as with a flute (it's now up to Ocarina 2).
Smule was founded in 2008 by CEO Jeff Smith and Stanford University assistant professor Dr Ge Wang, who is listed as Chief Creative Officer.
The tousle-haired Jeff showed us some footage of apps in use and gave us a tour of the office. It seems everyone has a geek side to their musical side - Jeff is the co-author of sixteen patents in the field of email security. The first thing that came up in discussion was the design of Smule's apps - skeuomorphism might be out with the next iOS (7) as announced at the 2013 WWDC, but when your apps are sometimes based on real musical instruments, where does that leave you? Not that Smule's apps look like real instruments that much, but it's clear lots of interface designs will need to change. Many developers will be in the same boat. Smule's CEO Jeff Smith says they're in deep discussions about how deeply to integrate the new iOS look into the smule apps.
Without the iPhone Smule would never have happened, and while things must have been crazy at the outset, and Jeff said but now Smule has 100 million users.
For sound apps, he says the iPhone was already so powerful by 2009, with impressively low enough latency, that Smule's I Am T Pain app could do its auto tune in real time. This app puts voice tuning in the palm of your hand, with scrolling lyrics and T-Pain beats including Buy You a Drank, I'm on a Boat and Blame It! Basically, it takes any speech and turns it into rap-like music. We saw a demonstration using a speech by President Obama, which was pretty funny. Look out Winston Churchill. Or I guess you could go unintelligible and use John Key. I don't know whether this is an indictment on the simplicity of rap or a tribute to the cleverness of Smule; thanks to the visit, I'd sway towards the second, but I guess it lies where your musical interests are.
Smule's chief scientist Parag Chordia reckoned the iPhone 5 has the same power as a Cray supercomputer did in 1984. Parag has a PhD in artificial intelligence and music at Stanford University and a BS in Mathematics from Yale. He is also the founder of BolRecords, an Indian classical music record label, and he's an actively performing Indian classical musician and electronic music composer.
Songify was developed by Atlanta, Georgia-based Kh.ush, which also made the app La Di Da. Kh.ush was Smule's first acquisition; the synergies are clear.
Sing! lets you share songs online including via Facebook, plus in an interactive globe interface where you can sing along with anyone else taking part anywhere around the world. A billion songs have been created already, Jeannie Yang, Chief Design Officer, told us. Her own background is at Yahoo! where she helped start its first social media research lab. She's also a house music DJ with a B.S. in Electrical Engineering and Computer Science from UC Berkeley and an M.S. in Information from UC Berkeley.
Sing was so popular so fast, it caused network traffic problems the company had to scramble to deal with by upgrading its servers.
When it first launched, anyone could join. This led to group collaborations, ie between the Pryde family in the US and a group called the Nesians from Indonesia.
We toured the office, with the almost de rigeur post modernist exposed ventilation and other ducting under the ceiling, and in tribute to its cause of making music available to everyone, guitars, other instruments and even a drum kit. Almost all the staff seemed have masters or PHDs in computer music and other subjects from Stanford University; a couple were even taught by the other co-founder of smule, Dr Ge Wang. I felt like saying 'I don't have a Masters, but it's not from Stanford'. Luckily, I restrained myself.
A guitar app (it's called Guitar!) uses the touch screen interface to have you play along with an animated bar chart, using impressive physics to create tone, depth and strength. The music is created in Apple Logic (on Macs of course - I didn't see any PCs in this office) by a team of five.
Other staff cover full time Google analytics, marketing, the server back-ends to data and more.
Income for Smule's projects, development and staff (the company seems always to be looking for more staff) comes from people subscribing to extra song content, licensed from around 200 publishers around the world. Another third comes from ads. Magic Piano, for example, is a free virtual app for the iPad, iPhone and iPad Touch, but Smule sells the songs for it at US$2.99 apiece, and licensed tracks are available for purchase for Guitar! which conceivably help you learn to play tunes on a real guitar.