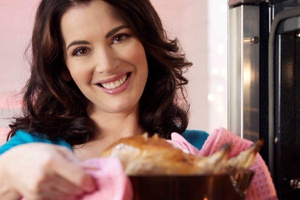 Evidently, nobody came to Nigella Lawson's assistance when her husband, Charles Saatchi, grabbed her throat.
He later described it as a "playful tiff" but most people agree that in the photographs it looks more like an instance of domestic violence perpetrated against the domestic goddess.
What's known as the bystander effect has been widely suggested as an explanation for people's lack of action at the time. According to Psychology Today, the bystander effect "occurs when the presence of others hinders an individual from intervening in an emergency situation".
There are two driving forces behind this phenomenon. The first is "diffusion of responsibility" which means that because there were so many witnesses to this event no one of them felt particular ownership of problem.
The second is "social influence"; where "individuals in a group monitor the behaviour of those around them to determine how to act".
Taking cues from others is a very useful habit. In some cases it's even a survival instinct - if, for example, this social influence urges us to join a crowd of people rushing from some (as yet) unidentified danger. And, we experience something akin to the bystander effect when we encounter excessive turbulence on an aircraft. If the cabin crew member still has that serene half-smile on her face and the other passengers aren't visibly panicked then we feel reassured.
I suspect the social influences at work in this upscale London restaurant were more complicated than in most settings. In fact, it's probably one of the least likely places you could expect someone to intervene on a private matter. There may have been a "Leave it out, Guv" at the ready at a London pub or a "What are you doing, Bro?" at the KFC in Tokoroa but there was no third party intervention when Saatchi manhandled Britain's sexiest woman over 50 that night.
Restaurants in themselves are a type of theatre. The set is highly decorated. The props (glasses and cutlery) are well polished. We are out in public. There's a prescribed code of behaviour. Manners and social graces are involved. The cast members (diners and staff alike) know exactly what's required of them. And so when Saatchi went off script nobody knew what to do. This effect was only underscored by the upscale nature of this particular restaurant and its clientele.
Scott's was described by Tatler as the "reservation everyone wants, from Cheryl Cole to Piers Morgan to Michael Caine". It's where diners sip Pomegranate Royales, scoff Beluga and sour cream on blinis - and congratulate themselves on being among London's A-listers. No one ordered up a side of domestic violence with their risotto primavera that night so the British did what they do best. They kept calm and carried on while the author of Be the Worst You Can Be: Life's Too Long for Patience and Virtue grabbed his wife, safe in the knowledge that he would not be challenged.
For all we know, there was ennui at work as well. Scott's was said to be the couple's favourite restaurant. Were diners and staff accustomed to witnessing this sort of behaviour? Was it only the good timing of the paparazzi lens that shifted this from business as usual to front page news?
People's reluctance to interfere with what we used to call "domestics" is well documented and often criticised. Yet has that traditional reticence morphed into something else as we strive to be broadminded and sophisticated? Perhaps there's an acknowledgement that everyone's relationship is different, that marriages may operate in strange and diverse ways, at play here.
Was the Fifty Shades of Grey effect to blame? Thanks to E.L. James' trilogy of racy novels, millions of us are much more aware of, er, unusual arrangements than we once were. We have been introduced to the finer points of dominance and submission. The back cover of the first book of this series reads "she finds him very attractive and deeply intimidating" and he "is tormented by inner demons, and consumed by the need to control". Did diners at Scott's initially think they were witnessing some sort of role play at work?
I'm not trying to trivialise the event, and I'm not saying the Saatchi-Lawson incident necessarily possessed similarities to the fictional hook-up between Christian Grey and Anastasia Steele. My point is that those modern day diners in upscale London might have had a lot of factors to grapple with before feeling comfortable about getting out of their seat to offer Nigella assistance - especially if it was (as Nick Clegg controversially speculated it may have been) "a fleeting thing".
Why do you think nobody intervened to help Nigella? Was it the bystander effect or were other forces at play? What would you have done if you'd witnessed it?