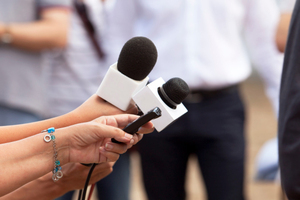 I was too scared to open my laptop much of last week because of the vitriol hissing out. In case you missed it, female journalists everywhere were united in righteousness over last Monday's column which they interpreted as saying "that those of us over 30 may as well hang up our notebooks because our thickening waistlines make it impossible for us to honeytrap our way to getting stories any more".
Argh. That is certainly not what I was intending to say. Obviously, I should not be allowed near a keyboard when doing all-nighters swotting for a statistics exam. Deep breath. Let me try this one again.
Sadly, it is my observation that the careers of many female journalists drop off a cliff when they are in their 30s. Not because our waistlines are expanding, which was a very silly and flippant thing to say and I really wish I hadn't gooberishly stuck that in.
But nevertheless, I'm still sticking to my guns that it's very difficult for a woman to carry on as a fulltime serious journalist once you're older and especially when you've had children.
I did try for a bit; I once had to hastily leave a high-level briefing at Standard & Poors on Wall Street because milk was seeping out all over my Diane von Furstenberg wrap dress.
You don't need too many occasions like that to make you think this is not going to work. It was not just the childcare arrangements that were problematic. I simply could not play the competitive journalism game any more. It seemed to require being a certain kind of person, a side of me I had lost somewhere along the way.
In more practical ways, too, I couldn't keep up. I was not available to go out in the evenings to events, I couldn't go and zip out for chummy coffees and drinks with contacts which is where you get the best stories. More troublingly, I also couldn't see things in such Manichean terms of good and evil anymore; after having children everything became grey and hazy and too messy to try to fit into a tidy journalistic template; I started to say "on the one hand, on the other hand", a fatal sign if you're trying to write a front-page lead.
Until last week, I didn't think I still had the ability to do a "beat-up" if I tried. Many women decamp to PR or stay in journalism as low-status freelancers. But I'm delighted to hear those women who tweeted with such muscular outrage last week feel you're doing fine, thank you ma'am. Even so, I still get the impression that much of the time there remains a power imbalance between young female journalists interviewing the (still) mostly older men who tend to inhabit positions of power. I am speaking only for myself here, I hasten to add.
I fear last week I was unfairly projecting my own self-loathing on to the next generation, who are obviously far more sensible than I ever was, and far less slutty in their quest for power. I bet they never had such an unwholesome fascination with influence and success. I longed for the attention of those who had power, incidentally usually older men, possibly a substitute for the approval of my high-achieving, hard-to-please father. (Ironically, he's easy to please these days - I just have to bring cake and help him to the toilet.)
But that's just me. As all the female journalists who responded loudly to my column have made clear, they're not looking for a Lou Grant. And they insist you don't need to put on a false self, or be a fruity poppet, to be a female journalist. I am relieved. It's not healthy, faking it.
Nigella Lawson said her public persona was all "a circus act" and we can all see how fake her perfect life is. To paraphrase F. Scott Fitzgerald: "Journalists aren't people exactly. Or, if they're any good, they're a whole lot of people trying so hard to be one person." I hope he's wrong. I hope female journalists, of whatever age, can go to work every day and still manage to be an ordinary human being, not an "it girl" or a saucy minx or a tough broad. Frankly, I can't see how the sisterhood can object to that.