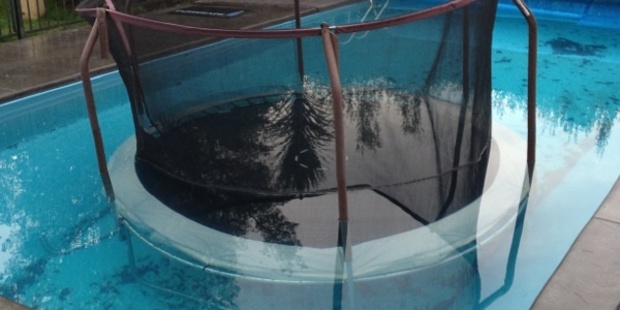 A reader writes: "Mate found his trampoline in the pool this morning after torrential weather on the Shore yesterday. New sport ... watertrampolining?"
Cops get wind of dope farm
Police officers in Leicester sniffed out a cannabis farm - after opening their patrol car windows because one officer kept breaking wind. The team noticed a strong smell of cannabis and tracked it to a nearby house, reports the Police Federation's magazine. "They asked their colleague in the back what he had been eating, and after fits of giggles and denials, they realised the cannabis smell was in the air in the street outside."
WC confusion
Jan writes: "The other evening when we were having a family meal at a city restaurant the womenfolk went to the bathroom. My 20-year-old granddaughter read out the signs on the doors, saying: 'Ladies with children - men with children - aren't there any just for ladies?' The actual wording was Ladies WC and Mens WC."
Honesty at the supermarket
To the lady upset by the supermarket ginger ale chugger ... "I've eaten a bag of chips, biscuits and a Coke (not all on the same day) at the supermarket. I've also fed a starving child some crackers and a milk drink all while doing my shopping. I quite happily take my empty packets, cartons and bags to the checkout. I don't have a problem with this as I pay for what I take. That she put it in her trolley and walked off means she was as desperate as I've been and as honest too. I would worry if I saw her pop it back in the fridge."
Marmite cooking challenge
A reader of the BBC's Good Food recipe page posted a recipe for Marmite on Toast for a laugh - the step-by-step instructions included: "Put bread in toaster", "get out butter and marmite [sic]", "get toast out of toaster when done", "spread butter on toast", "spread marmite on toast", "serve with bay leaf (optional)", and, "eat it". Other readers played along nicely, with one commenting: "Trying to cut down carbs, so I tried this recipe without the toast (omit steps 1 & 3). A little messy to eat, but still delicious." And another chimed in with: "Spread the marmite on the toast WITH WHAT!? It sticks to my fingers more than the bread and my spatula doesn't fit in the jar!"
Disability rort at Disneyland
People with disabilities had been earning hefty black-market fees by taking strangers into Disneyland and Disney World using the parks' own liberal "disability" passes (which allow for up to five relatives or guests at a time to accompany the disabled person in skipping the sometimes-hours-long lines and having immediate access to the rides). The pass-holding "guide", according to NBC's Today show, could charge as much as $200 through advertising on CraigsList and via word of mouth to some travel agents. (Source: News of the Weird)
Picture this #1: This mum wanted her daughter to be wearing a cap on her graduation cake. I guess they misheard...
Picture this #2: Google can be quite darkly poetic... More here...
News: Wind blows pancake onto jeep...
Video: Miss Utah is really, really good-looking...
Video: Old Spock battles New Spock in this fantastic Audi ad, riddled with geek references...
Got a Sideswipe? Send your pictures, links and anecdotes to Ana at ana.samways@nzherald.co.nz