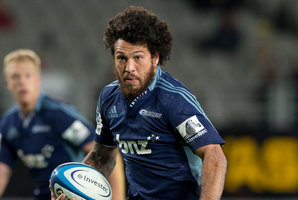 The shame is the Blues will not have Rene Ranger for their campaign next year.
The All Blacks will manage even with the impending sabbatical for Conrad Smith and exits of Richard Kahui and Tamati Ellison. They have enough players to cover the centre/wing areas Ranger inhabits.
Think Ben Smith, Charles Piutau, Frank Halai, Ma'a Nonu, Francis Saili and Tom Taylor. Cory Jane may return to some sort of action in a few months, Robbie Fruean might get sorted.
However, the Blues may suffer more looking for someone to replicate the deeds of Ranger this season. Once Ranger signed an agreement late last year to play the next three seasons for Montpellier, his exit was confirmed. It could not be changed unless someone coughed up in the region of $300,000.
Who was going to do that? Not the NZRU and nor should they. The new Blues war chest? No way, Jose, creating that sort of precedent was far too ugly for either organisation.
Ranger's game has improved this season as he knocked off more of the rough edges in his play. His natural talent has always been evident. His evasive skills are classy, his power frightening and he is one of the nation's best at finding turnover ball in the tackle.
Ranger's attacking instincts can hurt his side at times when he gets too flippant with his ideas instead of playing the percentages. Tweaking that mental application is one of his work-ons, as they say in modern coach-speak.
Where once he might not have reacted well to tuition, Ranger is now very responsive to rugby education. Once he trusts those offering the advice, he is alert and receptive.
The Blues will lament his departure and Ranger is probably feeling a little uneasy as he toils away in the All Blacks.
However, when he gets some space, he will know a $600,000-a-year deal is the right choice for him, his partner and young child. He cannot make that money in New Zealand and there are no guarantees he will stay in the squad or stay injury free.
He has four All Black caps so far in four seasons. It's not a lot but Ranger is an All Black, a member of that revered club, and that is strong currency in Europe.