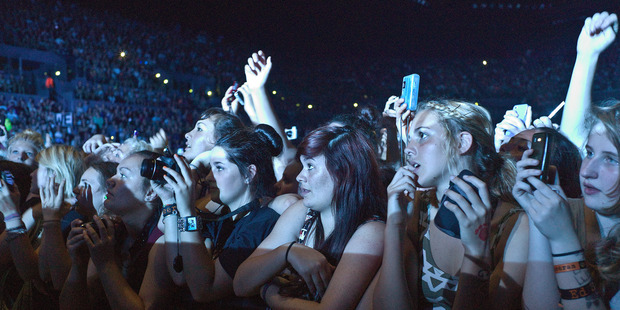 There is a small but growing movement in modern music that I fully support. A number of bands and musicians are starting to rebel against people using electronic devices such as phones and cameras at concerts to record, film and take pictures.
That might sound a little churlish. Especially as they're the ones up on stage saying, 'Look at me, look at me'. But the bobbing sea of cameras and phones at concerts - sometimes it's like a baying mass of paparazzi, only worse - has got out of hand.
Though I'm sure the moves are aimed at reducing the amount of crappy live footage ending up on the net, much of the artists' thinking is also about improving the concert experience for their fans.
I've always turned my nose up at people holding their phones aloft and recording lengthy bits of the concert. For starters, my already obscured view (hey, I'm not the tallest guy around) is being further obscured by their third roving eye. By all means take a snap to remind you of that time you saw Mick Hucknall perform at Vector Arena (yes, I went to that show), but please, put your gadget away and enjoy the show in real life rather than through a screen.
Recently, American art metallers Tool placed strongly worded posters outside their two shows at Vector, all but banning people from using mobile devices and cameras.
At the time I thought, "Typical. What a bunch of pretentious twats". Because they are well known for being pretentious twats, and they wear it like a badge. And initially the security guards who were enforcing the ban threatened to be more annoying than those obsessives who insist on filming concerts. But it took no time for the crowd to get used to it, the security guards' warnings lessened, and we all watched the show with our own two eyes. Amazing. As I said in my review of the show, it made for a refreshing concert-going experience. So sorry for calling you pretentious twats, Tool. You were right.
And there are other bands hopping on the ban-the-cellphone bandwagon too.
All-female British band Savages - check out their debut album, Silence Yourself, it's a scorcher - display a sign at gigs saying, "Let's make the evening special, silence your phones".
And according to singer Jehnny Beth, the lack of cellphone use has added to audience enjoyment.
"Since we put up the signs, there has been an increase in moshpits," she told The Independent recently. "It had become a sort of pollution; you look at the crowd and in key moments when it gets really intense an army of phones goes up."
New York act the Yeah Yeah Yeahs post even more pointed notices at their shows: "Please do not watch the show through a screen on your smart device/camera. Put that shit away as a courtesy to the person behind you and to Nick, Karen and Brian."
The likes of Justin Bieber and Taylor Swift are unlikely to introduce technology bans on their fans, because that picture-taking adoration is all part of their global marketing push. And then there are those blockbusting shows like Coldplay and U2 where they want you to use your phones as ciggy lighters to create a mood, man.
There was no problem with cellphone use at Black Sabbath in April. When Ozzy asked the audience to get their phones out and wave them in the air, the majority of the crowd held aloft their ciggy lighters in a tribute to the old-school.
And though it's fine to take your phone to a concert, and keep it in your pocket, can you please leave your iPad or tablet at home (yes, many of these have also been spied at concerts). Not only do you look like an absolute dork, you're also blocking my view, and that of many others.
Just watch the bloody show would you?
- TimeOut