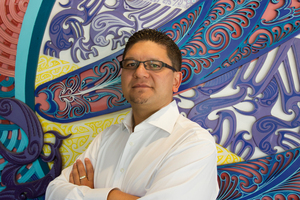 Is our Parliament too dominated by ex-journalists and broadcasters? That's certainly the trend at the moment, with more and more candidates for office coming from a media background.
The latest to throw his hat into the ring is TVNZ's Shane Taurima, a political journalist who wants to stand for Labour in the Ikaroa-Rawhiti by-election. Claire Trevett discusses Taurima's candidacy in Seat war stoking Maori interest in Labour. She points out that, although Taurima is currently on leave from TVNZ, 'it will now be difficult for him to return as head of Maori programming at TVNZ, no matter what steps are put in place to distance him from editorial decisions'.
There is also the issue of whether TVNZ has already boosted his chances, as 'Taurima's announcement he would seek Labour's candidacy was given coverage on Te Karere, coverage other potential candidates from both Labour and other parties did not enjoy'.

Such candidates are 'media waka jumpers' according to the Herald's media commentator, John Drinnan, who also says 'In my opinion [Taurima's] decision to stand for Labour inevitably leads to reflections on past interviews for Q&A when he took a sometimes overly dogged approach interviewing Government ministers'.
Yvonne Tahana has a very good discussion of the switch from media careers to politics in her article, TV broadcaster in bid to gain seat. Like Drinnan, she lists a number of journalists and broadcasters who have switched from the media to electoral contests. Added to the list could be other recent examples, such as Phil Twyford, Clare Curran, Melissa Lee, Brendan Burns, and Deborah Coddington. And, the latest National list MP to come into Parliament, is also from the media - see Willie Jackson's tribute to her in Claudette Hauiti can step up as MP.

Taurima explains why his media background makes him a good candidate in Radio NZ's Journalism good preparation for Ikaroa-Rawhiti - Taurima. He says that 'years of reporting has made him well versed in the issues of the electorate'. Of course, he also admits that 'any future in political journalism has been put to an end now he's shown which party he favours'. This is a point also raised by Cameron Slater in his post, If Taurima loses..., in which the controversial blogger says 'TVNZ has a lot to answer for. It seems they have become the hatchery for Labour party candidates and mouthpieces'.
That might be a bit unfair, but it does reflect the likelihood that the public could become increasingly cynical about political journalists and wonder if they're using their jobs simply as stepping stones to better paid careers. In that sense, the increasing number of journalists swapping sides do their colleagues a disservice. To be selected, however, Taurima will need to get a special dispensation for apparently not already being a party member - see Keeping Stock's blog discussion: Is this a rule that's made to be broken?.

The battle for Labour's Ikaroa-Rawhiti nomination is heating up, with the selection decision being made on Sunday - you can see details of the six candidates in Lloyd Burr's Labour's potential Horomia replacements. But one candidate that will face an uphill battle to be selected is Hayden Hape who says his occupational background includes work as 'a shearer, a fencer, a labourer and has spent time in the freezing works' - see Radio NZ's Hape uses 'man of the people' image for Ikaroa-Rawhiti bid. His working class background and lack of media experience might well count against him in modern parliamentary politics.

The Mana Party isn't immune from this 'celebritisation' of elections, and has just selected a candidate who they describe as 'a rap singer, a musician, a DJ, an MC and a motivational speaker in schools'. In fact Te Hamua Nikora's day job is as a Maori broadcaster - see Kate Chapman's Mana selects Ikaroa Rawhiti candidate. And it probably helped that he's the nephew of the late Parekura Horomia. He is also big on social media, apparently with 15,000 followers on this three Facebook pages. And he reacted to his selection on Facebook with the statement 'Yeeeeeehaaaaaa!' - see Newswire's Mana candidate has Facebook headstart. For the best discussion of the various candidates, see Morgan Godfery's An update on Ikaroa-Rawhiti.

The relationship between politicians and the media is also discussed in an excellent feature in the latest Listener by Karl du Fresne - Press gang, which is currently a subscriber-only story. Du Fresne puts forward the argument that the 'parliamentary press gallery is out of control', focusing on trivial matters, hounding MPs out of office, and ignoring more complex policy issues. He says that 'the tempo, intensity and aggression of political journalism has greatly increased' because 'stories about conflict and controversy are sexier than those dealing with policy'.
It's a truly scathing assessment, and although du Fresne doesn't concentrate on individual political journalists, instead seeing it as a systemic issue, he makes the following observations about the current press gallery: 'Most of those interviewed by the Listener identified TV3's Patrick Gower as a leader of the pack, although Fairfax Media's Andrea Vance - who learned her trade at Rupert Murdoch's now-defunct London tabloid News of the World - also has a reputation as an agenda-setter. At the other end of the spectrum, the New Zealand Herald's John Armstrong was cited as fair and responsible. And TVNZ political editor Corin Dann, paradoxically, has privately been criticised by some politicians for not being aggressive enough'.

The Listener editorial (now unpaywalled) backs up du Fresne's article - see: Why stand for it? - arguing that while in the past politicians had too much power in the politico-media relationship, 'the pendulum tends to swing from one extreme to the other' and now the power lies with the media. It opines that 'The new style of political journalism is insistent, confrontational and highly opinionated. Digital platforms such as Twitter and news websites demand to be replenished constantly. The political controversy du jour becomes a "breaking" story, unfolding hour by hour and requiring regular comment from whichever politician happens to be at its epicentre'. The upshot is that, fewer citizens will be willing to stand for office and be subjected to the 'brutal treatment' that politicians receive.

For more such critiques, see Brian Edwards's recent blogpost, A dissenting view of Aaron Gilmore. And, as pointed out yesterday, Chris Trotter has very usefully evaluated the role of the parliamentary press gallery in Poisoned Legacy: Why is the News Media and the Left so bad at defending our freedoms?. Of course, part of the issue is continuing problems with financial resourcing of the media. According to two investigative journalists, David Robie and Nicky Hager, 'there is not enough support for investigative journalists in countries like New Zealand'. They they say public funding and other sources are needed - see Jamie Small's New models of funding needed, say NZ investigative journalists.

Related to this, Fairfax is currently making significant cutbacks to its New Zealand operations, including closing Dunedin's DScene newspaper, and implementing job and savings cuts across the board. Some of this is reported in the Radio NZ item, Fairfax looks at job cuts, which also appears to confirm that the Stuff website will soon be paywalled. John Drinnan also discusses these issues in his column, Maori TV payout and the year of the paywall. The 'Stuff Nation' component of the Fairfax site is, incidentally, nicely parodied by Scott Yorke in his post, Imperator Fish Nation: For the love of God, Bill must go.

Finally, for my own assessment of the state of the media, you can read my Draft report for Transparency International on the state of the New Zealand Media.