Alan Pettott takes a trip down memory lane and gives the new Georgie Pie pie a quick taste test.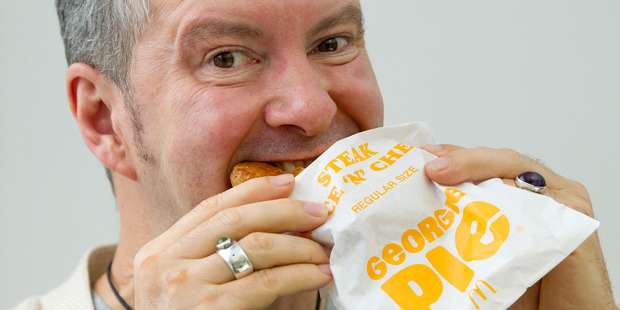 Oh, the late nights of my relative youth.
Heading home from wherever and talking the taxi driver into a quick Georgie Pie stop. A remedial feed for chump change and I always thanked myself in the morning.
So, they're back are they? Sort of anyway, and hey, it's not often you get to savour the taste of nostalgia.
First off, it looks the same; square and thin but not an envelope. Which reminds me, I was still writing letters when these suckers were around.
Right, as always I start with a corner.
Mmmm, pie crust. Fresh, tasty and without any hint of undercooked doughy mush. That's a tick.
Taking a moment for reflection as I chew, the filling appears greyer than I remember. Maybe because this is the first one I've eaten in daylight.
But for a steak mince and cheese, there's isn't much steak on offer, and the cheese lacks the old radioactive-yellow, clag factor. Still, the flavour is instantly familiar. Miscellaneous meat, my favourite.
Then chomp, chomp, chomp and it's gone. I guess a good pie's a quick pie.
But, at $4.50 a go, I think I've done my dash. That's what, half a pint? Besides, every pie fiend worth his or her tummy knows pies have moved on. We're all about ostrich, pomegranate and aged-cheddar now.
And that's the trouble with nostalgia. You should always leave it where you found it.
Unless, of course, you're in a taxi on your way home from wherever.
Read more: Pie lovers thrilled Georgie's back - except for the price tag