The Edge's Dominic Harvey went to Detroit for an encounter with Taylor Swift - who has just announced her return to New Zealand on her global Red tour - and survived to tell the tale.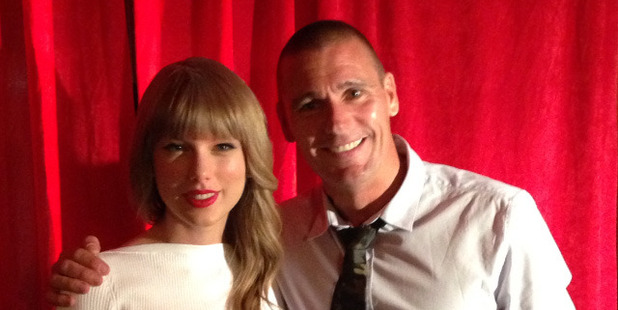 When asked if I wanted to fly to Detroit to interview Taylor Swift and watch her show, I thought about it for less than three seconds before saying yes.
My motivation was the free trip overseas. The whole Taylor Swift bit was simply the work I had to do to earn this holiday and two hours of Taylor seemed like a small price to pay.
I'd be a terrible liar if I claimed to be a fan before seeing the inner workings of the Red show. Truth be told, I found her downright irritating.
Being 40 and male, her lyrics "we are never ever ever getting back together, like, ever" are about as relatable as a conversation about hair straighteners.
But now, I get it. Swift connects with her fans in a way I have never seen before from any artist. The fans - Swifties, they not-so-cleverly call themselves - love her and she genuinely seems to love them back. I was left with the feeling that if it were possible she would meet each and every person in attendance.
I had a 20-minute interview (which can be heard on The Edge tomorrow morning) scheduled to take place backstage at Ford Field in Detroit the day before her first outdoor stadium show - a sellout gig to 50,000.
With an artist this big it's not uncommon for a few questions or topics to be out-of-bounds - usually the stuff everybody wants to know. Today, not only were a few topics off-limits but all questions had to be pre-approved, which is a bit bloody ridiculous.
The interview was fairly non-eventful, as are all her interviews. She's not known for giving away a quote that will be turned into a headline. Like, ever. She strikes me as a super-focused and mature young woman, assertive, with a clear picture of who she is and what she stands for. She maintains an almost frightening level of eye contact. She can handle herself, which made the questions-in-advance rule seem even more unnecessary. My guess is it will only be a matter of time before she puts her foot down and tells her people to take a chill pill (or whatever these cool young people say these days).
Soon after our interview, Taylor is on stage for a lengthy soundcheck, which I get to watch with tour manager Robert Allen, an Englishman who now calls America home. He used to manage Def Leppard.
When he tells me his brother Rick is the drummer, it takes every ounce of self-control not to break into that line of the Bloodhound Gang song: "The drummer from Def Leppard's only got one arm."
Allen tells me he used to tour with Black Sabbath and notorious hair metallers Motley Crue in the 80s. His job must be a lot less stressful now. I doubt he would get too many 4am calls about Miss Swift chucking TVs into the swimming pools.
Saturday is show day and the stadium is 90 per cent full by the time the opening act, Ed Sheeran, takes the stage. Sheeran is not a big deal in the United States. Not yet, anyway. But the fans turn up because Taylor likes him and says he is good, and what Taylor says goes with this lot.
Before she hits the stage, the giant screens play clips of fans doing cover versions of her songs. Mixed up, of course, with ads - starring herself - for Diet Coke and Wonderstruck perfume.
The show itself is very good. As good as any thing I have ever seen, actually. It's big, with multiple costume changes, 15 dancers, a tight band, fireworks, confetti cannons and some of the best backdrops you'll ever see.
Swift dabbles in dubstep territory with a Skrillex-sounding remix of Trouble. And You Belong to Me gets a Motown-sounding makeover.
She swings from guitar, to banjo, to fiddle and commands total silence when she sits at the baby grand for a slow number: a song about a boy who treated her badly, of course, as they always do.
Even the bloke in front of me with the Nine Inch Nails shirt, who looks like he's on chaperone duties, doesn't look like he's hating it too much.
I hate to use the word wholesome because it sounds like a backhanded compliment, but this show is good clean fun. She keeps her pants on the whole time and never swears.
It's a refreshing change from Lady Gaga, Rihanna and Ke$ha, who seem to be having a contest to see who can wear the least. And the banter with her fans between songs, while a bit lengthy and preachy in parts, is good stuff - dealing with mean people, falling in love, breaking up.
If you are a parent of an angsty teen you can be rest assured your kids are in safe hands with Swift. She's a good role model and it's clear that connection to her audience is based on aspiration: the fans like her and want to be like her.
Both her parents, Scott and Andrea, are there to see their daughter perform. Mum travels with Taylor and Dad makes it along whenever he can get away from his job as a stockbroker (during our backstage chat, he asks me if I have shares in Telecom New Zealand - he has the equivalent of $35 million of his clients' money invested in the telco).
Andrea has become a bit of a star in her own right. The fans know her name and some even turn up with banners with her name on - a crafty ploy to try to get an invite to the backstage area known as the Red Room.
Taylor's mum spends most of her daughter's performance working the large, packed room. This night she watches the show from a small fenced-off area at the back of the stadium floor. The barrier surrounds a small stage where Taylor comes to sing a few acoustic songs.
She keeps an eye out for people to bring into this exclusive section - mainly parents with really young girls who are struggling to see much from their seats. No fanfare or fuss, no draw or lucky tickets. Just a mum wanting to be a good host. I did get a slight feeling of her living vicariously through her daughter, a bit like one of those beauty pageant parents. But fair play to her, any parent would be a little excited if they had a kid like Taylor.
Before and after the show, Swift meets and mingles with fans lucky enough to have been invited backstage to the Red Room.
They can be awkward things, these meet and greets. Clinical, brief and, more often than not, soulless. The Red Room is set up as the sort of spot where young girls may have a slumber party with their BFFs. There are photos of Swift around the walls, a photo booth, pizza, lollies and more Diet Coke. The 30 or so fans plucked from the crowd mingle and wait for Taylor to arrive.
Twenty minutes after finishing on stage she turns up to work the room for 40 minutes with energy and passion that is impossible to fake, chatting to fans, posing for photos and signing things. Every single fan leaves with a story. These are the people who will continue to buy her albums 10 or 20 years from now when she is no longer the hot new thing.
It's clear Swift fully gets her fans' needs. It is all about giving her customers an experience, connecting with them and giving them what they want. I imagine 30 years from now, when she is Madonna's age, she will still be singing 22 and today's Swifties will still want to hear it.
Who: Taylor Swift
What: Country pop star on tour
When: Vector Arena, November 29
Hear: Dominic Harvey's interview on The Edge tomorrow morning and online at theedge.co.nz
Listen to: Red (2012); Speak Now (2010); Fearless (2008); Taylor Swift (2006)
- TimeOut