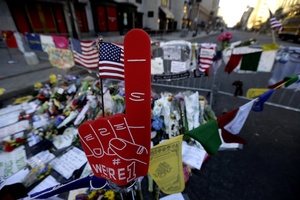 Flowers. Flags. Hugs and teddy bears. We've seen it before, you know.
We are Boston! Or so cried a nation with banners and black armbands and love. We were all Sandy Hook only four months ago. We were Aurora a few months before that.
From one who, at times, feels like a merchant of misery, it's easy to pick a pattern in America's collective tragedies.
I stood by a memorial in Boston this week: by the flowers, flags and teddy bears, the banners and candles and cards, and was disturbed by how familiar that sombre scene has become. The trinkets heaped upon each other, propped against a police fence. People prayed and spoke in whispers and the cellophane wrapping of resting bouquets flicked a little in the wind.
It reminded me of the makeshift memorials outside Sandy Hook last year. It was the same in Aurora, in July, after James Holmes took his gun to a movie theatre and sprayed it on a Friday night.
This was a different weapon with a different outcome, and maybe a different motive too, but just like those tragedies the fallout in Boston beat an all-too-familiar path.
On Day One, bloodied, startled witnesses describe the scene as being "like a war zone". It's always like a war zone.
On Day Two, as the media descends, a nation meets once-smiling faces and learns their innocent names. Young people gaze from slow-motion zooms, book-ended by gutting eulogies. There's always a photo of some poor little child, grinning through buck teeth or showing off the new baseball mitt he'd excitedly unwrapped with his siblings at Christmas.
On Day Three the media lauds the emergency's heroes. Local politicians go on TV and boast of resilience and strength. The flowers, flags and teddy bears keep heaping in a mass.
And on Day Four momentum starts dwindling. It ends with a church service and a visit from Obama. And before the media packs up and the cordons ease, he vows the nation will never forget.
And perhaps Americans don't forget, but apparently they also don't learn.
In recent times there has never been a better chance to prevent the next cycle of mass-murder than the Senate's vote on extending background checks to everyone buying a gun.
A background check. A measly piece of paper and a phone call that 90 per cent of Americans support. And yet their top appointed officials -somehow - can straight-facedly ignore basic common sense and a massive, overwhelming majority.
Forget the flowers and flags. Forget the candles and teddy bears. Instead of memorials and police cordons there should be riots in the streets.